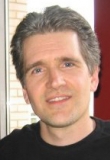 Martin Popoff has been described as "the world's most famous heavy metal journalist." At approximately 7900 (with over 7000 appearing in his books), he has unofficially written more record reviews than anybody in the history of music writing. Additionally, Martin has penned 27 books on hard rock, heavy metal, classic rock and record collecting. He was Editor In Chief of the now retired Brave Words & Bloody Knuckles, Canada's foremost metal publication for 14 years, and also contributes to Revolver, Guitar World, Goldmine, Record Collector, bravewords.com, lollipop.com and hardradio.com, with many record label band bios and liner notes to his credit as well.
Robert Lecker Agency manages the foreign rights on Martin Popoff's many hard rock and heavy metal band biographies. Please visit Martin Popoff's foreign rights page for a full list of these titles and inquiry information.
---
2 Minutes to Midnight: An Iron Maiden Day-by-Day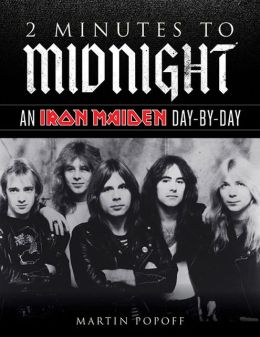 Backbeat Books, 2013
2 Minutes to Midnight: An Iron Maiden Day-by-Day offers a fresh form of band biography, examining myriad events in Iron Maiden's history in a detailed timeline form. The book springs to life with illustrative quotations, historical notations that put the band in the wider context of the rock world, and then, as icing on the cake, an explosion of color via live photography and memorabilia shots.
Great Britain's Iron Maiden has enjoyed over 40 years of multiplatinum success the world over as pretty much the biggest, most famous heavy metal band in history, save perhaps Metallica. The band continue to tour exhaustively, a happenstance that surely will help keep this book front-racked in the minds of metalheads everywhere. A book on Maiden has been the #1 request that Martin Popoff's fan base has put upon the author for the past ten years—and now he's delivered.
---
Black Sabbath FAQ: All That's Left to Know on the First Name in Metal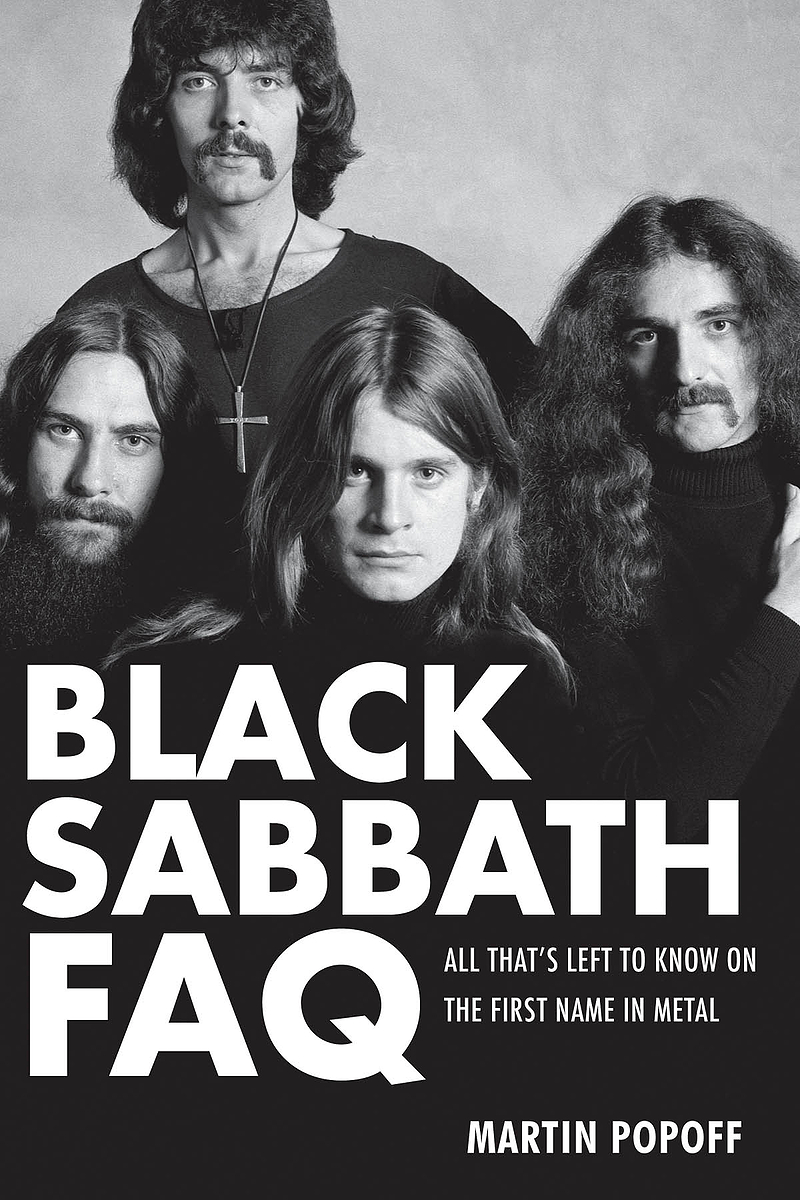 Backbeat Books, 2011
Unlike any Sabbath book thus far, Black Sabbath FAQ digs deep into quirks, obscure anecdotes, and burning questions surrounding the Sabs. In a fast-moving, topical format, this book covers a tremendous amount of information, delectable to any Sabbath fan, but hard to find in a traditional biography. This rich history lives and breathes and shouts right here. And the voice behind it could not be stronger: Martin Popoff is a heavy metal expert who has authored over 30 books on the subject, including Doom Let Loose, which is widely considered the definitive biography of the band. In Black Sabbath FAQ, Popoff is like a rabid detective unearthing (and sometimes debunking) ancient lore, valiantly covering new ground, applying academic rigor, but then wildly sounding off with lurid opinion. The pendulum swings, and, though disoriented, the serious Sabbath studier is better for it come the book's doomy conclusion. Dozens of images of rare memorabilia make this book a must-have for fans.
---
Judas Priest: Heavy Metal Painkillers

ECW Press, 2007
Lifelong fan and preeminent metal historian Martin Popoff examines the Priest's rich legacy album by album, anthem by anthem, along the way recounting the band's shocking split with Halford in the mid'90s and his triumphant return in 2003. Having interviewed all the principals in the band repeatedly over the years, Popoff gives a firsthand account of Priest's rocky, often comical ride through the '70s, and through the gold and platinum records of the '80s, expertly detailing the long road back to the arena headline status the band now enjoys as heavy metal's proudest ambassadors.
Accompanying Popoff's lively text is a full color cornucopia of images, the band's gleaming steel imagery springing to life through a myriad of photos from the stage, memorabilia shots, cover graphics and all manner of Priestly feast for the electric eye...
---
Black Sabbath: Doom Let Loose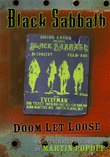 ECW Press, 2006
Containing rare and previously unpublished material culled from Popoff's interviews over the last decade with all the principal members of the band, Black Sabbath: Doom Let Loose is an exhaustive song-by-song, album-by-album trek through the Sabs' 37-year history. Numerous one-on-one conversations with Ozzy, Tony, Geezer, and Bill, as well as ten interviews with Ronnie James Dio, and additional interviews with supporting musicians such as Tony Martin, Ian Gillan, Glenn Hughes, Vinny Appice, Bob Daisley, Bobby Rondinelli and Neil Murray, make this full-colour retrospective a must for any fan.
---
The Top 500 Heavy Metal Albums Of All Time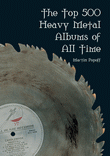 ECW Press, 2004
The result of an extensive worldwide poll asking heavy metal fans to list their favorite high-octane albums, this compendium combines those survey results with Popoff's original interviews with world famous rockers who reveal recording session secrets, regale us with road tales, and let us into their crazy personal lives, in addition to offering their own Top Ten ear-splitting faves.
When all of this is melded with Popoff's unique and celebrated insights into heavy metal, an essential resource becomes a rock-writing standard. From AC/DC to ZZ Top and from Black Sabbath to Pantera, both headbanging chart-toppers and lesser-known gems are catalogued and critically appraised. With reviews of early metal albums of the late '60s, as well as the latest hits from the '00s, The Top 500 Heavy Metal Albums of All Time combines fearless criticism with hilarious, revealing, candid rock star quotes to produce an honest assessment of the 500 albums that topped the poll.
---
Worlds Away: Voivod And The Art Of Michel Langevin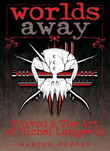 Spider Press, 2009
"Drummer extraordinaire known as Away, of the masters of Intergalactic Warcore Voivod, is the band's artistic visionary, and his brand of art complements and refines itself with each LP in perfect accordance with the band's different themes and musical growth. From chaotic, battle-ready skull-faced warriors, to his technically intimidating mecha-space stations ruling a star-dotted world of his own invention, his foreboding odd caricatures wander across landscapes on another planet, in another galaxy. Somehow his artwork depicted the music you were hearing - and the feeling it gave you while staring at Away's album cover artwork - like an extraterrestrial concoction exploding in your head and hurtling you through space in an escape pod, heading to another spider-spinning sandy dimension that only Away and Voivod could invent."
Philip H. Anselmo
---
The Collector's Guide To Heavy Metal: Volume 3: The Nineties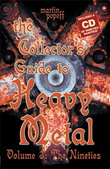 Collector's Guide Publishing, 2007
The book is the follow-up to Volume 1 - The Seventies, which was 1162 reviews over 344 pages, and Volume 2 - The Eighties which was 2528 reviews over 428 pages. For the record, that's 6763 reviews for the 1290 page three book series. I'm done, I've had it, I'm getting too old for this! : )
Seriously, it was the most work I ever had to do on a book. No pictures this time, and quite tiny type. Really, I wouldn't be surprised if it's actually as much content as the '97 book, just with the one decade. It's quite stuffed full o' words. I included two appendices - my personal Top 100 of the decade, and the Top 100 of the decade calculated from the poll used in my The Top 500 Heavy Metal Albums Of All Time.
---
Ye Olde Metal: 1978 (2009)
Gettin' Tighter: Deep Purple '68 – '76 (2008)
All Access: The Art Of The Backstage Pass (2008)
Ye Olde Metal: 1977 (2008)
Ye Olde Metal: 1976 (2008)
Ye Olde Metal: 1973 To 1975 (2007)
Ye Olde Metal: 1968 To 1972 (2007)
Run For Cover: The Art Of Derek Riggs (2006)
Dio: Light Beyond The Black (2006)
The Collector's Guide To Heavy Metal: Volume 2: The Eighties (2005)
Rainbow: English Castle Magic (2005)
UFO: Shoot Out The Lights (2005)
The New Wave Of British Heavy Metal Singles (2005)
Blue Oyster Cult: Secrets Revealed! (2004)
Contents Under Pressure: 30 Years Of Rush At Home & Away (2004)
The Top 500 Heavy Metal Albums Of All Time (2004)
The Collector's Guide To Heavy Metal: Volume 1: The Seventies (2003)
Southern Rock Review (2001)
Heavy Metal: 20th Century Rock And Roll (2000)
The Goldmine Price Guide To Heavy Metal Records (2000)
The Collector's Guide To Heavy Metal (1997)
Riff Kills Man! 25 Years Of Recorded Hard Rock & Heavy Metal (1993)
The Top 500 Heavy Metal Songs Of All Time (2003)