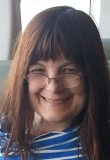 Elizabeth Rains has been a reporter for the Vancouver Sun, an editor for Canada Wide Media, and the editorial director and publisher of Pacific Rim Magazine. Her feature articles have appeared in scores of magazines and newspapers in Canada, the U.S., and Ireland. She is the author of The Vancouver Parents Survival Guide (Brighouse Press), which generated many—and only—very positive reviews. Her current project is a book about medical issues, and she is also working with a partner on a children's book series. Elizabeth searches for the extraordinary within the ordinary. Her specialty is writing stories about people that she knits into socially significant topics.
On the business side, Elizabeth is a partner in Cove Media, where she writes marketing materials and coaches writers. She teaches editing at Simon Fraser University. She has taught journalism, editing, and publishing at Capilano University, Langara College, and Kwantlen Polytechnic University. She speaks frequently on writing and editing topics at conferences and publishing industry events. Elizabeth has won three writing awards and holds a master's degree in journalism from Carleton University.
She lives with her husband on the Sunshine Coast of British Columbia near a ferry dock. If you arrive at the Langdale terminal in the warmer months, you may see her kayaking by.
---