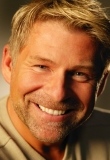 Anthony Bidulka, BA, BEd, BComm, CPA left a decade long professional accounting career to pursue writing and never looked back.
In 2003, Quill & Quire described Bidulka's first book, Amuse Bouche: A Russell Quant Mystery, as "…an effervescent first novel that is much like the tasty French hors d'oeuvres from which it takes its name", earning Bidulka a nomination for the Crime Writers of Canada Arthur Ellis Award.
In addition to his long-running Quant mystery series, Bidulka wrote two books following the adventures of man of action Adam Saint, a tough-as-nails, luxury loving, Disaster Recovery Agent. In 2016 Bidulka published his first stand-alone suspense novel, Set Free, with Kirkus Reviews saying: "The countless plot twists are exhilarating, with gasp-inducing drama and flatly startling story turns."
For more information about Anthony, visit www.anthonybidulka.com
---
Set Free

Bon Vivant Books, 2016
The truth will set you free. Can lies do the same?
Within minutes of arriving in the exotic, enigmatic, sweltering city of Marrakech, renowned author Jaspar Wills is kidnapped, blindfolded, bound, and beaten. As Wills struggles to survive the ordeal, he recounts his rise to fame and the tragic events that led him to Morocco. With the kidnapper's demands left unmet, Wills faces death with fear, grief…and guilt. Is what happened in the past tied to his abduction? Is someone he loves responsible? Or is this payback for his sins? Living with a loss far greater than his own death, Jaspar yearns to be set free. But do some kinds of freedom come at too high a cost?
---
The Women of Skawa Island: An Adam Saint novel
Insomniac Press, 2014
Sergiusz Belar, one of the most powerful men in the world, faces a dilemma. Alzheimer's Disease is eating away at his intellect and soon he must appoint a successor. But along with tremendous power will come knowledge of a staggering secret Belar is keeping. Who can he trust? Is it already too late? With the fate of the International Intelligence Agency hanging in the balance, former Canadian Disaster Recovery agent Adam Saint is lured to the very edge of the world. Floating on the deep waters of Polynesia, a mysterious land of 1,000 islands, is one unknown to the modern world. Until a trio of women, survivors of a long ago shipwreck, are discovered on the unchartered spit of steamy, dark jungle. But who are the women of Skawa Island? Are they victims? Or are they hiding something, complicit in their own isolation? Emerging from the wreckage of his career and personal life, Adam Saint is forced to lead a mission to find the women of Skawa Island. With the resources of his former employer, no longer available to him, Saint must forge unlikely alliances. Supported by his kick-ass sister Alexandra and misfit computer genius nephew Anatole, Saint battles to win back his life, his family, and uncover a truth so horrible it might never have been meant to escape Skawa Island.
---
When the Saints Go Marching In: An Adam Saint Novel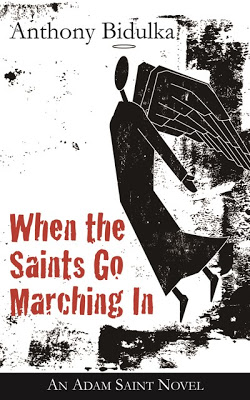 Insomniac Press, 2013
Your best friend is killed. Your wife is leaving you. Your son hates you.
Then comes the bad news.
A Sukhoi Superjet carrying a Very Important Person, plunges from the sky over subarctic Russia. A Canadian Disaster Recovery Agent inspecting the crash site is murdered. CDRA sends in their best to investigate.
Man-of-the-world adventurer, Adam Saint, lives a fast-paced, often dangerous, always exciting life. When a passenger train crashes in Detroit, terrorists blow up a public building in Belfast, a cyclone ravages Bangladesh, or Angola descends into civil war, if Canadians are there, so is the CDRA. And so is Adam Saint.
Saint's Russian investigation is derailed when he receives devastating personal news. Suddenly, the ultimate man of action is thrown into emotional and physical turmoil that tests his moral fortitude to the limit. Thrust into a fight for his life, Saint embarks on a thrilling journey of danger and deceit from the bucolic prairies of Saskatchewan and high-rise hotspots of corporate Toronto, through London's outer boroughs, to steamy Southeast Asia and Sin City itself, Las Vegas.
Failure is not an option. Until it is.
---
Dos Equis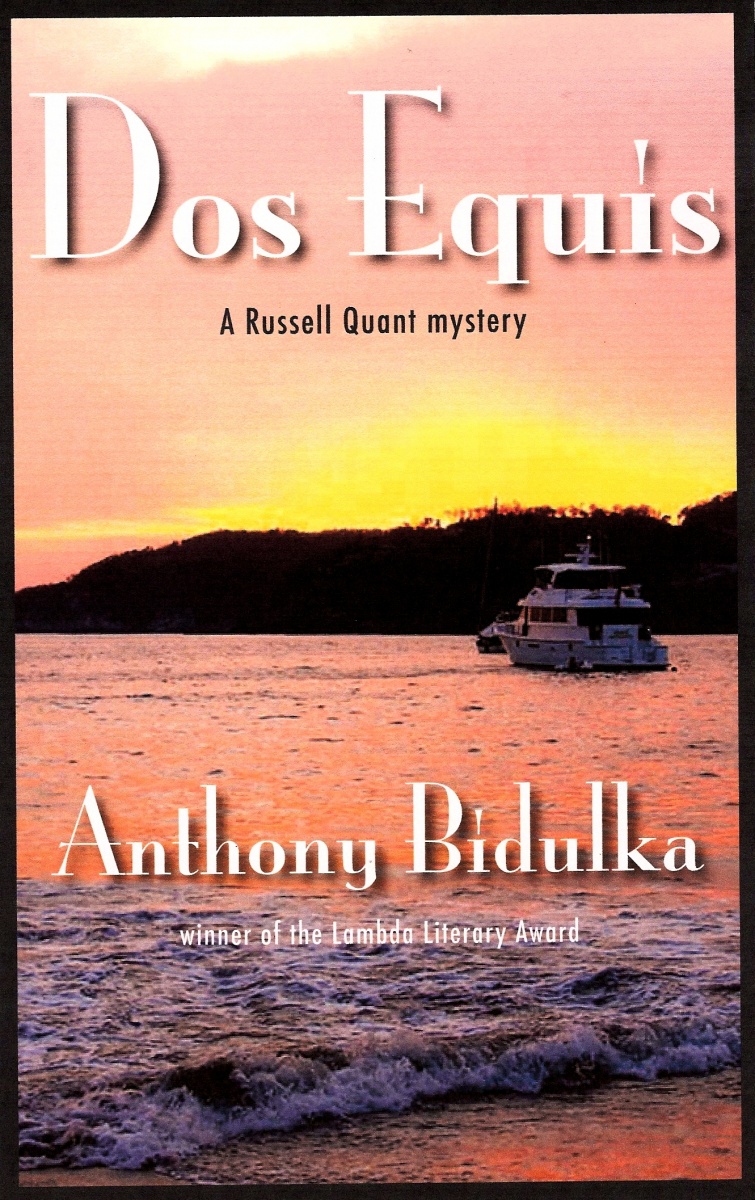 Insomniac Press, 2012
After a year-long, self-imposed exile, ten whispered words on a cryptic telephone message change everything. Returning to his life as a prairie private eye, Russell Quant comes face to face with the greatest horror of his career.
Finding the body wasn't the worst of it. Realizing it belongs to someone he knows, thrusts Russell Quant into his most personal and dangerous case. Risking everything, including the lives of those he loves, Russell fights to right a wrong at the hands of a nameless, faceless killer.
Up against a Machiavellian villain, Russell recruits his entire entourage of family and friends in an unforgettable caper that races from the frigid winterscapes of Saskatchewan to the pristine beaches of Mexico's Costa Grande, in a tale of love, loss, lies, and coming home.
". . . this is a strong book with a lot of interesting twists and dealing with a subject that becomes ever more possible as our society ages." The Star Phoenix
". . . simple but ingenious . . . Watching it unravel is great fun . . ." Lambda Literary
"The plot line is fast-moving and seductive, but it's the endearing protagonist who gets you hooked . . ." NOW Magazine
"Anthony's colourful witty language is best on display . . . The characters are better than ever." mysteriesandmore.com
---
Date with a Sheesha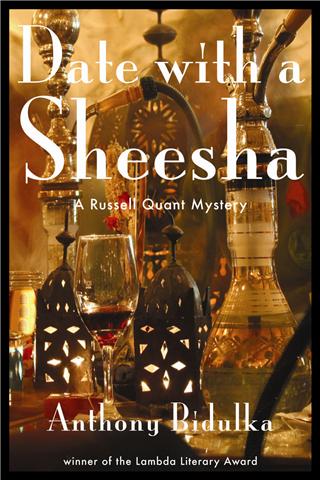 Insomniac Press, 2010
Neil Gupta travelled to the Middle East to buy carpets. Instead, in a dim corner of an exotic spice market, his lifeless body is found wrapped up in one.
From the glitzy, flamboyant, mega-high rises of Dubai, to the frankincense fields of Oman and scorching sand dunes of Saudi Arabia, PI Russell Quant is on one heckuva magical carpet ride; one that skids to a deadly halt on the frozen surface of a Saskatchewan pond.
Never one to shy away from a challenge, Russell prepares to face the killing heat, choking sand storms, and pungent, dead-black nights of Arabia. Attempting to find out why Neil Gupta was killed, Quant embarks upon a perilous journey that pits him against a deceitful Bedouin sheikh, shifty souk merchants, a snooty museum curator, quirky antique carpet enthusiasts, and an underground club for "fabulous men."
As Russell's spicy foreign adventure heats up, he learns valuable lessons about love, life, and learning to seize the moment... before it all disappears like smoke from a genie's lamp. On the verge of solving his sizzling mystery, Russell finds himself making the biggest personal decision of his life, and discovering that sometimes, bitter endings pave the way for new beginnings.
Winner, Rainbow Award for Best Gay Mystery/Thriller, 2010
---
Aloha, Candy Hearts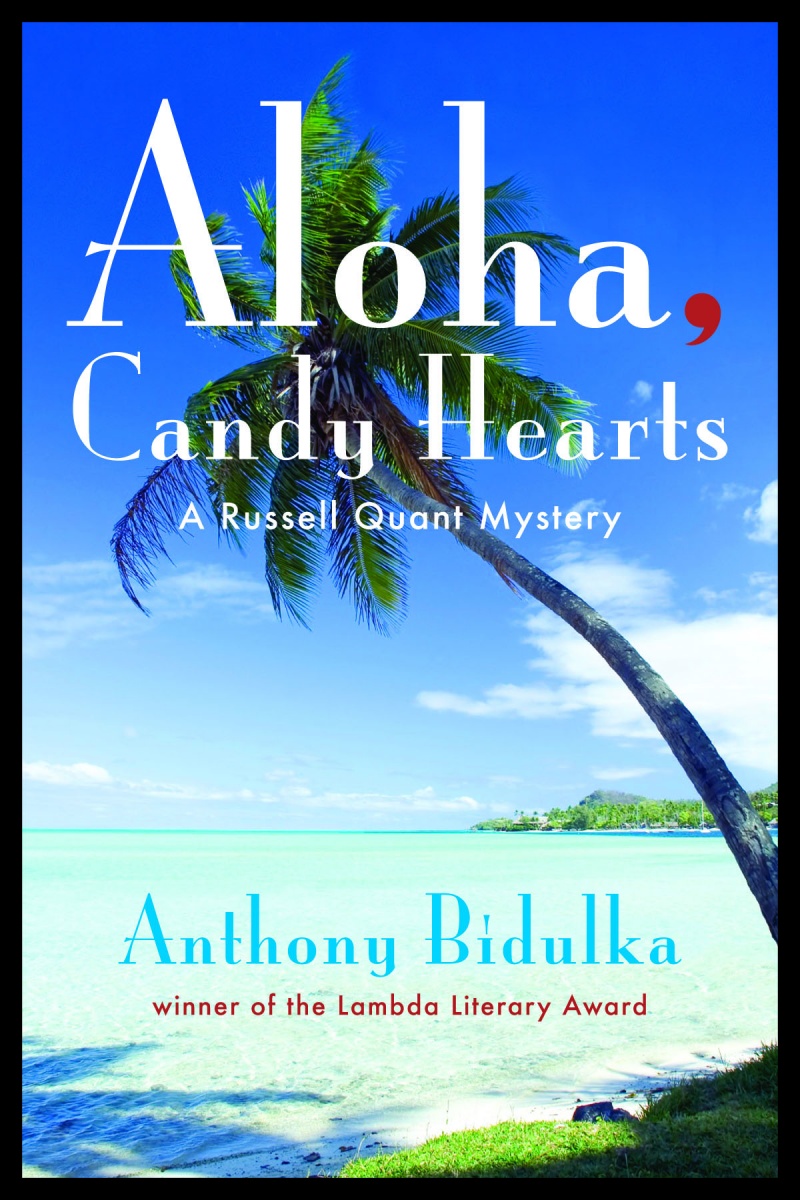 Insomniac Press, 2009
From Pacific to Prairie, a teasing treasure hunt turns into a frightening game of cat and mouse. PI Russell Quant is plunged into the vagaries of a shocking hometown murder and the blasphemous blackmail of one of the literary world's most esteemed writers.
Russell can't be sure whether a dead man's surprising last gift is a treasure map or wild goose chase. With a series of clues that beckon Russell into the annals of suppressed Saskatoon history, he revisits the harsh realities of early homesteaders, investigates an infamous local sports heroine, escapes a second-run movie house, and digs for clues beneath the site of a never-forgotten scourge. As past reveals future, the hunter become the huntee.
Attempting to keep pace with his latest mystery, Russell balances his professional life with the demands of a wedding, a memorial, and at least one home-cooked meal at Mom's. With the Hawaiian sand barely shook free from his hair, Russell is confronted, professionally and personally, with the harsh consequences of indecision. Saying hello and good-bye is never easy.
Finalist, Saskatchewan Book Award for Book of the Year, 2009
Finalist, Arthur Ellis Award for Best Crime Novel, 2010
---
Sundowner Ubuntu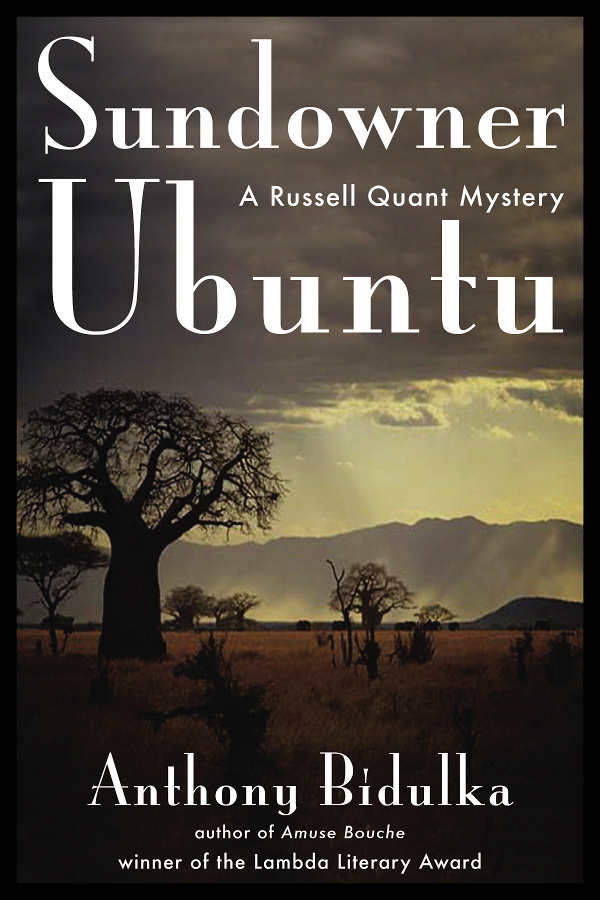 Insomniac Press, 2007
A mother's pain. A million dollars. A missing son. Desperate to right old wrongs, a new client hires Russell Quant to locate her son, Matthew, lost to her for twenty years. But can money relieve remorse? Through good old-fashioned detective work, Russell peels away the layers of a carefully-concealed life, grown from seeds of traumatic childhood and violence. Tracking Matthew's life from the schoolyard drug culture of a pleasant prairie city's underbelly to the stunning vistas, vibrant townships and tinderbox safaris of Africa, Russell finds much more than what he was looking for.
Ever adept at making both friends and foes, worlds collide as Quant runs a gauntlet of uncharted danger. Thrust into the unfamiliar role of bad guy, stymied by seemingly insurmountable distrust and base fear, Russell cuts a blistering swath through covert threats and overt bullets. But as he searches for his Canadian needle in an African haystack, the brutality escalates. Confronting his own role in the cause and effect of scars and anger, retribution and revenge, Russell Quant faces a difficult question: What happens when the prodigal son resists the return?
Finalist, Lambda Literary Award for Best Men's Mystery, 2008
---
Stain of the Berry
Insomniac Press, 2006
Everyone has their Boogeyman. But who—or what—is scaring Saskatoon locals to death? Private detective Russell Quant is roused from sleep only to fall into a nightmare case when the family of a suicide victim hires him to uncover the real cause of death. But what is real and what is imaginary?
Quant works to narrow his list of suspects only to find the number of victims growing. Russell is mystified as the trail of fear connects him to a vast landscape of people, including an elegant potash miner, dubious trailer park denizens, reticent farm folk, the Pink Gopher choir, and a gaseous psychiatrist.
Compounding Quant's bewilderment is the complete and perfect disappearance of his once very real friend, Sereena, who has become a ghost he simply can't find. With the Boogeyman always a few paces ahead, Russell struggles to keep the hounds of failure from baying. Travelling from Saskatchewan's summer storms to the menacing Lotus Land of Vancouver, he finally touches down in the Canadian Arctic, where tragic hope resides. Russell returns home to bully attacks, a desperate chase through midnight woods, and a sadistic abduction. As Quant penetrates the truth of the Boogeyman, he finds himself on a perilous suspension bridge between idyllic childhood and grown-up violence.
Finalist, Saskatchewan Book Award for Readers Choice, 2007
Finalist, Lambda Literary Award for Best Men's Mystery, 2007
---
Tapas on the Ramblas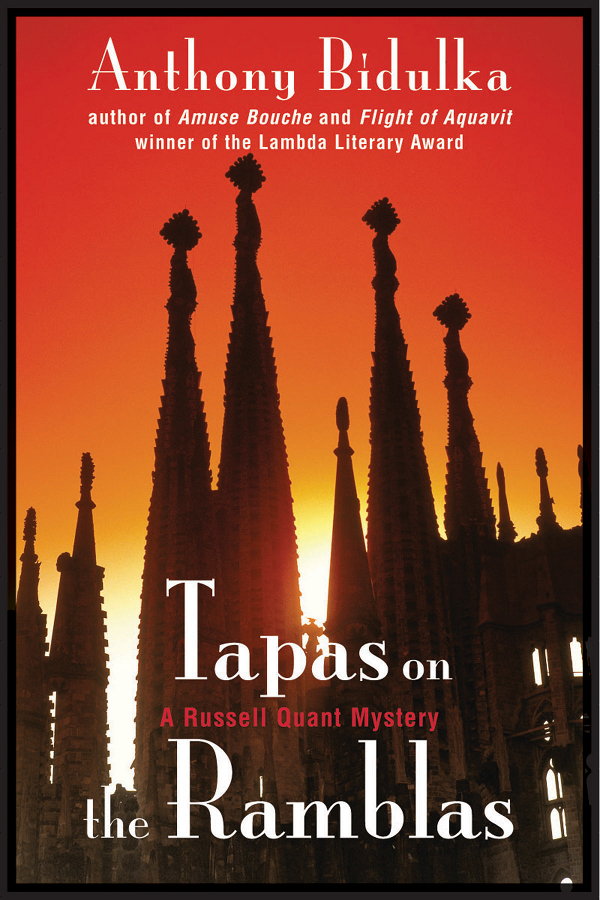 Insomniac Press, 2005
Charity Wiser, matriarch of the Wiser clan by virtue of her wealth and power, is an indomitable provocateur... and private detective Russell Quant's newest employer. There is more than a single rotten apple on this family tree, and Quant has been hired to discover which one is intent on murdering his client.
To help him sleuth out the evil culprit, Charity Wiser arranges a family reunion aboard the opulent Friends of Dorothy Cruiseliner as it tours the most exotic ports of the Mediterranean. But smooth sailing is short-lived as undercurrents of clashes—local and tourist, gay and straight, trendy and traditional—offer Russell insight into the Wisers and reveal a family simmering with rage and greed. He begins to wonder: Who doesn't want Charity Wiser dead?
Shifting from his Prairie stomping ground to a sea undulating with murder, Quant's smarts, senses, and sea legs are challenged. In this captivating yet captive environment, family tensions mount and suspicions build. And Russell must balance his detective duties with safeguarding his client and protecting his own life. From the delight of tapas and sweet sangria in Spain to the bitter taste of death in Sicily, Quant connects and clashes with friends and foes in a series of unforgettable locales. Come aboard a sensual journey of sun and sea brine, caviar and champagne on a cruise replete with the luxury of murder.
Finalist, Saskatchewan Book Award for Fiction, 2005
---
Flight of Aquavit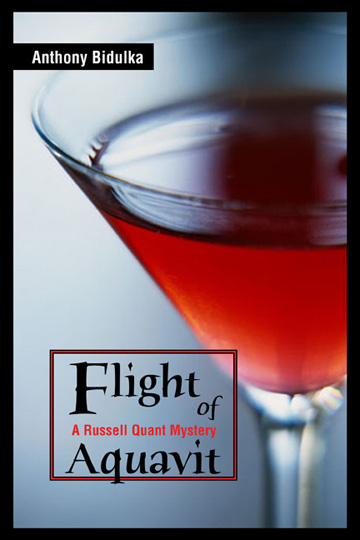 Insomniac Press, 2004
At the dead end of desolate country road, a late night meeting suddenly becomes an ambush. Gay private detective Russell Quant is faced with personal threats he can't ignore, a friend who may be a foe and a cagey client with a treacherous monkey on his back. As Quant trails a menacing blackmailer known only as Loverboy, he finds himself immersed in the midnight world of e-dating and parking lot romance. Lured to New York City, Quant tests his wit, wisdom and wiles from the Old World grandeur of Fifth Avenue to the kaleidoscope world of Broadway's electric nightspots.
The fast pace continues when Quant returns to Saskatoon where he grapples with decoys and deceit, realizing that no one is as they appear. Threat turns into deadly reality and the need to uncover the identity of Loverboy becomes increasingly desperate. Quant deftly maneuvers through the twists and turns of a perilous case and a personal life rife with its own mystique and mayhem.
Winner, Lambda Literary Award for Best Men's Mystery, 2004
Finalist, Saskatchewan Book Award for Saskatoon Book of the Year, 2004
---
Amuse Bouche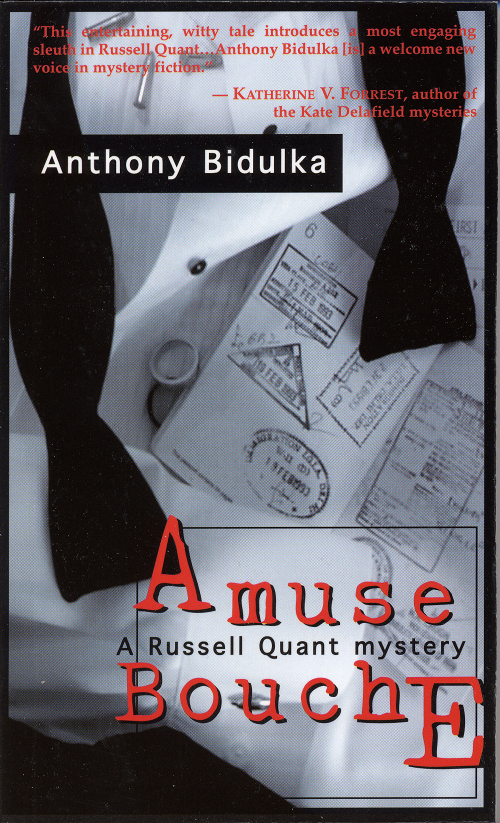 Insomniac Press, 2003
A gay wedding gone bad. A missing groom. An unsullied reputation at risk. Enter Russell Quant, cute, gay and a rookie private detective. With a nose for good wine and bad lies, Quant is off to France on his first big case. From the smudgy streets of Paris, he cajoles and sleuths his way to the pastel-coloured promenade of Sanary-sur-Mer.
Back in Saskatoon, Quant comes face to face with a client who may be the bad guy, a quarry who turns up in the most unexpected place and a cast of colourful suspects: the vile sister, the best friend, the colleague, the ex-lover, the lawyer, the priest, the snoopy neighbour—are they involved? Or is someone else lurking in the shadows? As he works through his case, Quant juggles his detective gig with the responsibilities of a personal life brimful of captivating personalities.
Finalist, Arthur Ellis Award for Best First Novel, 2003
Shortlisted, ReLit Award, 2003