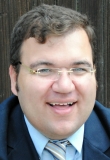 I'm a lifelong game show fan. I still have the cardboard Wheel of Fortune that my grandfather made for me when I was a toddler. I've been actively collecting memorabilia — videos, photographs, "lovely copies of our home game" — since I was a teenager. I've had a game show fan site (www.game-show-utopia.net) since the late 1990s. A lot of people started such sites at that time, yet all but mine eventually disappeared; this is why my site design is very 1999-ish. It's a relic of the time that I first uploaded it, and I rather enjoy keeping it that way. It's among the last of an old breed.
In 2011, I appeared on Conan. I performed a trick for host Conan O'Brien that I often use as an icebreaker at parties: I recited the game shows that aired on a given date. Motivated partly by O'Brien's encouragement and partly by the resulting and unexpected surge of fame I experienced on social media, I began writing what I know.
I've since published six very well-received books on the history of game shows:
· Quizmaster: The Life & Times & Fun & Games of Bill Cullen (which reached #13 in sales on Amazon during the first month)
· The four-volume set This Day in Game Show History (which reached #8 in sales)
· The Matchless Gene Rayburn (which reached #1 on Amazon in November 2015)
I've since been a guest on several radio programs — including NPR's Marketplace (http://www.marketplace.org/2015/01/20/business/ive-always-wondered/game-show-winner-pulls-back-curtain-prizes) and The Colin McEnroe Show — introduced as an expert on game shows. I've also been consulted by the Game Show Network and Buzzr TV for several projects, including a documentary and an advertising campaign, coming up in 2016. My efforts have been consistently well received, as evidenced by reviews written by fans and by the productions themselves. An avid collector of memorabilia, I have a personal collection of over 2,000 photos. I also have access to the archives of game show agent and estate manager Fred Wostbrock, an accomplished author and historian.
I am currently completing a Game Shows FAQ title for Backbeat Books.