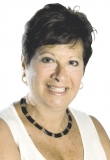 Sue-Ann Levy is known for her feistiness and her take-no-prisoners attitude towards politicians of all stripes. Sue-Ann recently joined Sun Media's Queen's Park bureau as a columnist. Prior to that, she spent 15 years at Toronto City Hall exposing waste and mis-management and advocating for those without a voice. Her efforts at getting to the truth were rewarded with Sun Media's 2012 Investigative Reporting award for her series on Regent Park. Sue-Ann can be heard twice weekly on The John Oakley Show on Talk 640 and is a regular commentator on CP24, SUN TV and CBC radio. Sue-Ann ran for the Progressive Conservatives in the 2009 by-election in St. Paul's. A half-marathon runner and avid swimmer, Sue-Ann came out on the front page of the Toronto Sun during Pride Week in 2007. Her upcoming book, Scoop, will relay the experience of being a right-wing far-from-politically-correct lesbian and the face of the new Conservative in a left-wing political world.
Sue-Ann resides with her wife and their two long-haired miniature dachshunds in midtown Toronto.
To read more from Sue-Ann, visit her column at The Toronto Sun and her Twitter page.
---
Forthcoming Title
Scoop (McClelland and Stewart, 2014)