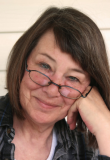 Janet Kellough is a storyteller whose many tales have appeared both on the stage and on the page. Her live productions, best described as "rhythm and words" feature a blend of storytelling and song that uses evocative period music to punctuate the spoken word and tales from the past to enhance and explain the music.
She has written, produced and performed in shows like The Women Left Behind, Tales From the Wellington Dump, and Fowke Tales as well as many other shows and concerts that feature a fusion of music and spoken word.
Some of her favourite stories have been captured on the CDs Swear On My Mother's Grave and Fowke Tales: Live at Lang.
After the adventure of self-publishing three books, her historical novel On the Head of a Pin was published by Dundurn Press in 2009 and Sowing Poison will be released in July 2012.
Janet lives in Prince Edward County, an island tucked away on the north shore of Lake Ontario.
For more information about Janet, visit www.janetkellough.com
---
47 Sorrows: A Thaddeus Lewis Mystery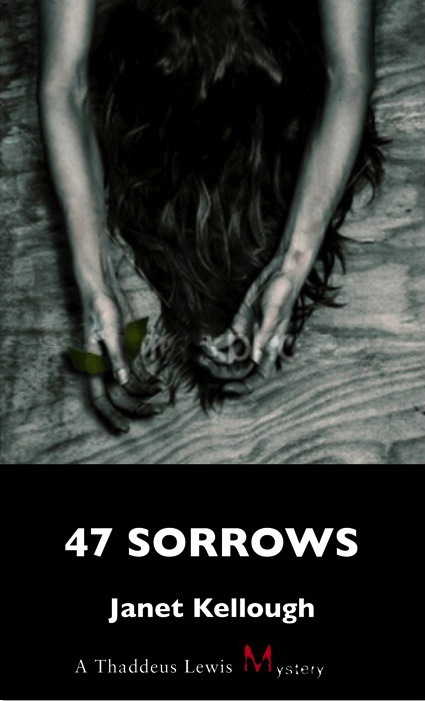 Dundurn Press, 2013
When the bloated corpse of a man dressed in women's clothing washes up on the shore of Lake Ontario near Thaddeus Lewis's home, nothing is found on the body except a small scrap of green ribbon.
The year is 1847—"Black '47"—and 100,000 Irish emigrants are fleeing to Canada to escape starvation. The emigrants bring with them the dreaded "ship's fever," and soon Canadian ports are overflowing with the sick and dying and entire families are being torn apart.
Lewis's youngest son, Luke, who has aspirations of becoming a doctor, volunteers in the fever sheds in Kingston. When he finds a green ribbon on the lifeless body of a patient named John Porter, he is intrigued by the strange coincidence. Though dealing with demons of his own, young Luke enlists his father's help to uncover the mystery, a tale of enmity that began back in Ireland. Their search leads them to the heart of the criminal underworld of Toronto, where the final acts of vengeance play out against the tragedy of the fever sheds.
---
Sowing Poison: A Thaddeus Lewis Mystery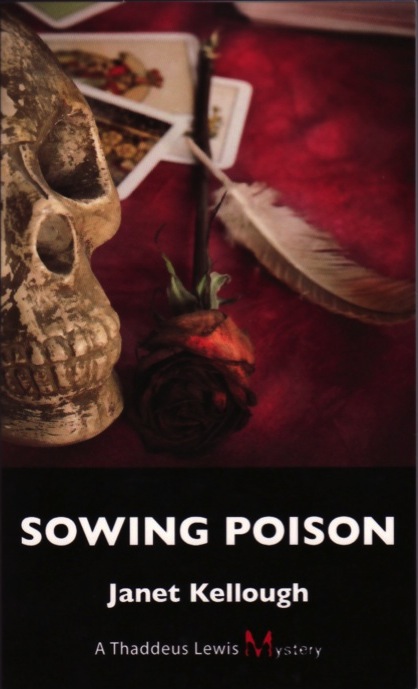 Dundurn Press, 2012
After an absence of many years, Nathan Elliott returns to the lakeside village of Wellington in Ontario's Prince Edward County to be at his dying father's side. Within a few days of his return, his brother reports that Nathan disappeared while the two were cutting firewood and no trace of him can be found. Shortly after, Nathan's wife arrives in the village. Claiming that she can contact the dead, she begins to hold séances for the villagers.
Thaddeus Lewis, a Methodist circuit rider, is outraged. Lewis's ethical objections propel him on a twisted path. On his journey, Lewis encounters towering sand dunes and a mysterious wild boy. After coming up against greed, fraud, and murder, can Lewis learn the truth about Nathan Elliott? Religious conflict and political dissension all play a part in this tale set in 1844 Upper Canada.
---
On the Head of a Pin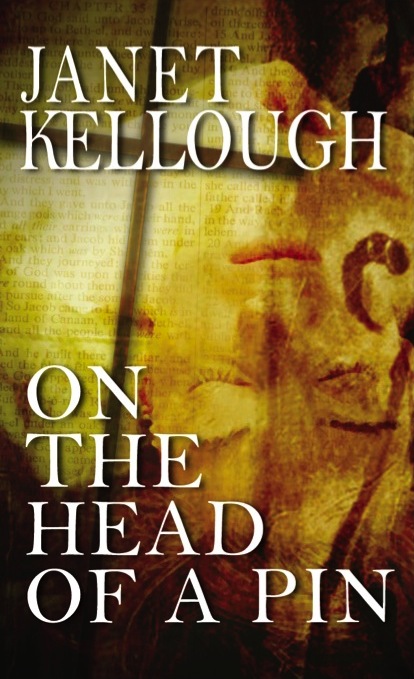 Dundurn Press, 2009
Thaddeus Lewis, an itinerant "saddlebag" preacher still mourns the mysterious death of his daughter Sarah as he rides to his new posting in Prince Edward County. When a girl in Demorestville dies in much the same way, he realizes that the circumstances point to murder, but in the turmoil following the 1837 Mackenzie Rebellion he can get no one to listen. Convinced there is a serial killer loose in Upper Canada, Lewis must track the culprit across a colony convulsed by dissension, invasion and fear of pirates on the St. Lawrence River. His only clues are the Book of Proverbs and a small painted pin...
On the Head of a Pin is loosely based on events related in The Autobiography of Thaddeus Lewis published in 1865. Drawing from Eastern Ontario's rich history, a tale of murder spins across the era of Patriot Hunter invasions and Pirate Bill Johnston, the Battle of the Windmill and the battle for responsible government. History and mystery meld in this gripping story of Upper Canadian murder.
On the Head of a Pin captivated us from the beginning. Janet did a great job of weaving her characters into a mystery that keeps you turning the pages...This is a four star selection, that will be loved by all mystery fans." Suspense Magazine
"This is a very atmospheric debut...that allows Kellough to make good use of the local landmarks and the area's rich and varied history...there are a lot of good ideas and good writing." The Globe and Mail
"Kellough's book works on multiple levels; the murder mystery is woven into the larger story of Canada's wild, pre-Confederation. Scenes of Lewis acting out his religious beliefs invite emotional connection, and the novel's final chapters successfully mirror the arc of a Greek tragedy." Quill and Quire
"Readers will grow to like Thaddeus Lewis more and more as his character evolves into a thoughtful and sympathetic amateur detective. Kellough skillfully intermingles his adventures with historical facts to give us a real insight into the period and the district." ReviewingTheEvidence.com
"This is a tale that any fan of history and mystery will enjoy. It's deftly crafted by an imaginative author whose other books you will want to read." New Mystery Reader Magazine
"... it is hard to think of any crime fiction set in Canada's rich historical past. On the Head of a Pin by Janet Kellough is doubly welcome, since it is firmly historical and also extremely well done. This is a "good'un", highly recommended." www.whodunitcanada.com
"...As she puts the pieces of the crimes together, the author offers interesting insights into the role of religion in early Canada, the rivalry between various denominations and the prevailing distrust of American influence from across the border. A good read made better by its obvious affection for its subject and the locale in which the action takes place." Harrowsmith Country Life
"Must Read - Janet Kellough has a reputation for bringing history to life in her native Prince Edward County. Kellough weaves a tale rich with historical detail and intrigue..." Watershed Magazine
"Itinerant Methodist preachers are rarely the heroes of modern mystery novels, but they were not rare in the 1830-40s when On the Head of a Pin is set, shortly after the Mackenzie Rebellion that led to Lord Durham's Report and the union of Canada East and Canada West. Posted to Prince Edward County along Lake Ontario, Thaddeus Lewis is still getting to know the circuit when he finds a young woman dead on her bed, odd marks on her throat, a small red testament in her hands and a pin with tiny writing on the head in her clothes. The death is ruled natural. As he pursues his ministerial tasks on this and other circuits, connecting with people enduring troubling times, other, similar deaths occur. Kellough does a fine job of bringing life to the times and to her ministerial hero on horseback - Buy it." The National Post