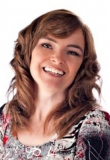 Laura Byrne Paquet's first encounter with the written word was not an auspicious one: her birth announcement appeared in the classifieds section of the Brampton Daily Times under the heading "Livestock for Sale." Despite that literary embarrassment, she decided to become a writer. In 1987, she earned a bachelor of journalism degree from Carleton University in Ottawa. After stints as a business reporter and a magazine editor, Laura became a full-time freelance writer in 1992. Three years later, she and her husband founded a communications firm, Cornerstone Word Company, through which she writes and edits materials for a variety of corporate, government and non-profit clients. Since 1997, she has written or co-authored 12 books and novellas, including Secret Ottawa (ECW Press), The Urge to Splurge: A Social History of Shopping (ECW Press) and Wanderlust: A Social History of Travel (Goose Lane Editions). A past president of the Travel Media Association of Canada, she also blogs about travelling like a local at www.FacingTheStreet.com.
---
Wanderlust: A Social History of Travel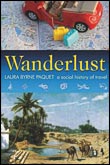 Goose Lane Editions, 2007
Where did passports come from? Why did 1930s stewardesses carry wrenches? And how did teetotalers shape the modern vacation? Wanderlust answers these questions and more, as author Laura Byrne Paquet delves into the social history of travel. Now a multi-billion dollar industry, travel is also one of the world's oldest. Paquet follows hypochondriac Greeks to the Oracle of Delphi, checks out the bedbugs in medieval coaching inns, enjoys a Finnish sauna with a group of well-bred Victorian ladies, and relaxes on a transatlantic liner with some of England's Bright Young Things from the 1920s. In an engaging and humorous style, she explains the difference between a traveller and a tourist and explores the future of travel, from grand plans for commercial space travel to underwater hotels. As the book reveals, we've always loved to travel — the only thing that keeps changing is how we get from here to there.
---
The Urge to Splurge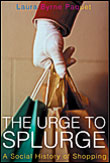 ECW Press, 2003
People used to haggle in crowded outdoor bazaars. Now we buy collectibles on eBay. Tracing the evolution of shopping from marketplaces to malls, mail order to the Internet, The Urge to Splurge is a chatty, intriguing look at the history and the psychology of one of humankind's oldest pursuits.
---
Secret Ottawa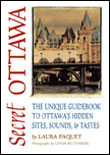 ECW Press, 2000
And any other guidebook will tell you Ottawa is a bureaucrat's town: Secret™ Ottawa uncovers the passionate heart beneath the pencil-pushing facade. You'll learn about outlet shops for lingerie and candles, dim wine cellars awash in live jazz, and the best park benches for moonlit romance.
Secret™ Ottawa shows you how to dig under the government-approved surface to find the city other tourists — and many residents — miss.