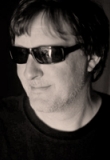 Jon Stebbins is a California-based author, journalist and pop music historian. He has written three acclaimed books on The Beach Boys, Dennis Wilson: The Real Beach Boy (ECW Press 2000), The Lost Beach Boy (Virgin Books 2007) and The Beach Boys FAQ (Backbeat 2011). As a Rock journalist his writings have appeared in numerous publications including ASCAP's Playback magazine, MOJO, Goldmine, Los Angeles Magazine, L.A. Weekly, San Luis Obispo New Times, Discoveries, American Way magazine, Endless Summer Quarterly, 20/20 and others. He has written liner notes for several music releases including the 2008 Sony Legacy edition of Dennis Wilson's Pacific Ocean Blue.
Jon has also been involved in a growing list of television productions as a consultant, writer and producer with credits for BBC1, BBC4, Discovery Channel, Fox and VH1. His work for BBC television includes co-producing a 60 minute documentary on Dennis Wilson for the BBC 4 Legends series as well as creative contributions to the series Secret Map of Hollywood and the documentary The Beach Boys – Wouldn't It Be Nice? Jon has also logged time as a music correspondent for Dick Clark's Launch Radio syndicated stations and BBC2 radio.
Three decades ago Jon was making an impact on the Los Angles club circuit as a singer/guitarist with his band The Point. The group formed in 1978 and garnered glowing reviews in the L.A. Times and L.A. Weekly with their self-titled EP released in 1980. Music Connection magazine voted The Point a Critics Pick in 1982 and a top-ten Players Poll choice in 1984. The Point released their lone LP titled Magic Circle in 1983 which was a college radio favorite and today is considered a Paisley Underground classic. In 2005 a song from the Magic Circle LP titled All My Life, co-written and sung by Jon, was included in the soundtrack of an episode of the hit WB network television show Gilmore Girls and was also featured on the Rhino Records box set release Children of Nuggets. The Point, who disbanded in 1985, reformed for a one-time reunion concert in the summer of 2008 in their hometown of Livermore, California.
---
The Beach Boys in Concert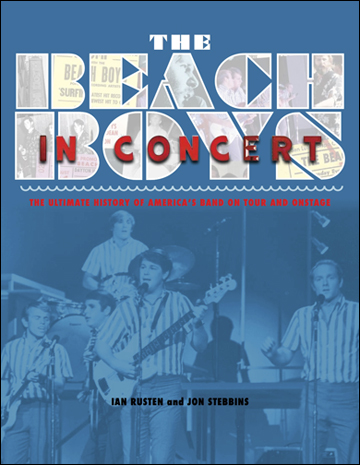 Coauthored with Ian Rusten
Backbeat Books, 2013
The Beach Boys in Concert is an exhilarating day-by-day journey through the triumphs and tribulations of one of rock's most legendary acts. More than ten years of exhaustive research has produced an unprecedented window into the Beach Boys' thrilling successes, personal tragedies, inter-band dramas, and globe-trotting, rock-and-roll adventures from 1961 to 2012.
The Beach Boys in Concert is a solidly factual and highly entertaining ride from their humble beginnings of driving to local gigs in their mom's station wagon to touring the world in private jets with a massive entourage in tow, from nervously playing to a dozen unimpressed Southern California surfers to performing for a half-million worshipping fans on the National Mall. The evolution and growth of an entertainment phenomenon is captured here in a far more detailed way than ever before.
The Beach Boys in Concert is the ultimate document for fans when it comes to the group's career as concert performers; no other publication comes close to this tome in scope, detail, and definitive quality. Adding to the feast is an extensive collection of unpublished photos and rare memorabilia images that bring fans deeper into the context of any given era covered in the book. This detailed, illustrated 50-year Surfin' Safari will blow your mind!
---
The Beach Boys FAQ: All That's Left to Know About America's Band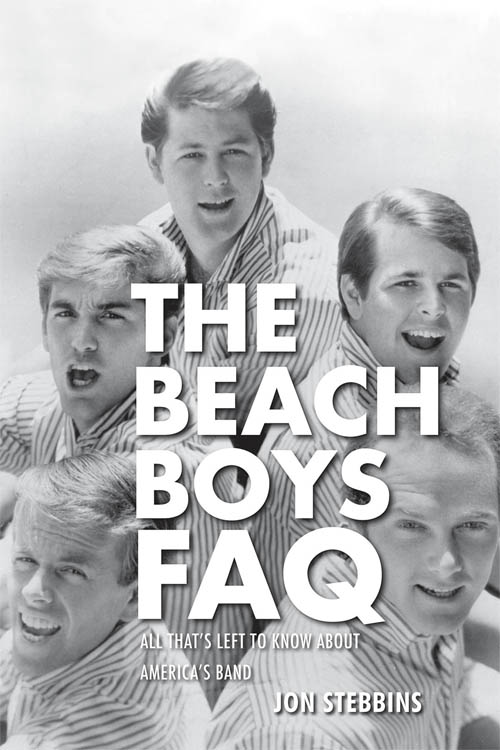 Backbeat Books, 2011
A half-century after their first single release, "Surfin'," the Beach Boys continue to define California popular culture and the sunshine-infused sound that will forever be its living soundtrack. But beyond innocent harmonies touting the delights of catching waves and cruising to the drive-in, the Beach Boys are responsible for some of the most sophisticated pop/rock music ever made. Brian Wilson's acclaimed production, the 1966 LP Pet Sounds, was both a creative triumph that inspired The Beatles' best work, and a commercial disappointment that was widely misunderstood by the band's U.S. fans. The Beach Boys followed that with perhaps the greatest three-minute rock single ever, "Good Vibrations," which wowed the critics, was a worldwide number one hit, and ushered Brian Wilson down the path of substance abuse and mental illness. Brian then leapt into the abstract madness of Smile, his epic psychedelic masterpiece that was ultimately scrapped in a 1967 sea of paranoia that nearly drowned the Beach Boys as an act.
As the 1970s dawned, the endless summer of nostalgia designated the Beach Boys as its favorite sons. They recorded a critically lauded string of albums even while coping with the knowledge that their creative leader, Brian Wilson, had become a semipermanent recluse and a casualty of his own excess. Still, the Beach Boys continued through controversy, conflict, and death, rising again and again to find more popularity and more commercial peaks into the 1980s and beyond. As the new millennium unfolds, the Beach Boys are still here and continue to be a popular concert attraction and one of rock's most compelling and important stories. InThe Beach Boys FAQ, Jon Stebbins explains how the band impacted music and pop culture. This entertaining, fast-moving tome is accompanied by dozens of rare images, making this volume a must-have for fans.
---
Dennis Wilson: The Real Beach Boy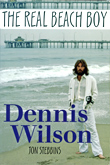 ECW Press, 2000
He was the embodiment of the sun-drenched California dream, a sandy-haired sex symbol that sparked a cultural tidal wave. Surfer, lover, drummer, Beach Boy. His life was a short, brilliant, intoxicating ride that inevitably curled into a torturous spiral of addiction and despair. Profoundly gifted but destructively wild, Dennis Wilson was dead at age 39, drowning quietly while his influence made millions for others. Volumes have been written about the troubled past of Dennis's older brother Brian Wilson and his amazing impact on the history of popular music. But Dennis Wilson: The Real Beach Boy tells for the first time the staggering tale of the freewheeling brother who fired Brian's imagination and permanently influenced the Beach Boys' sound, style, and attitude. While Brian stayed in his room, brother Dennis hurled himself at life with an unquenchable lust for action. From surfing teenager to drag-racing daredevil, from his legendary sexual appetite to his chilling friendship with mass murderer Charles Manson, this biography follows the hair-raising trail blazed by the real Beach Boy. Author Jon Stebbins candidly and passionately offers the first in-depth look at one of rock and roll's most compelling figures in a book packed with rare, never-before-published photos and previously unknown facts.
---
The Lost Beach Boy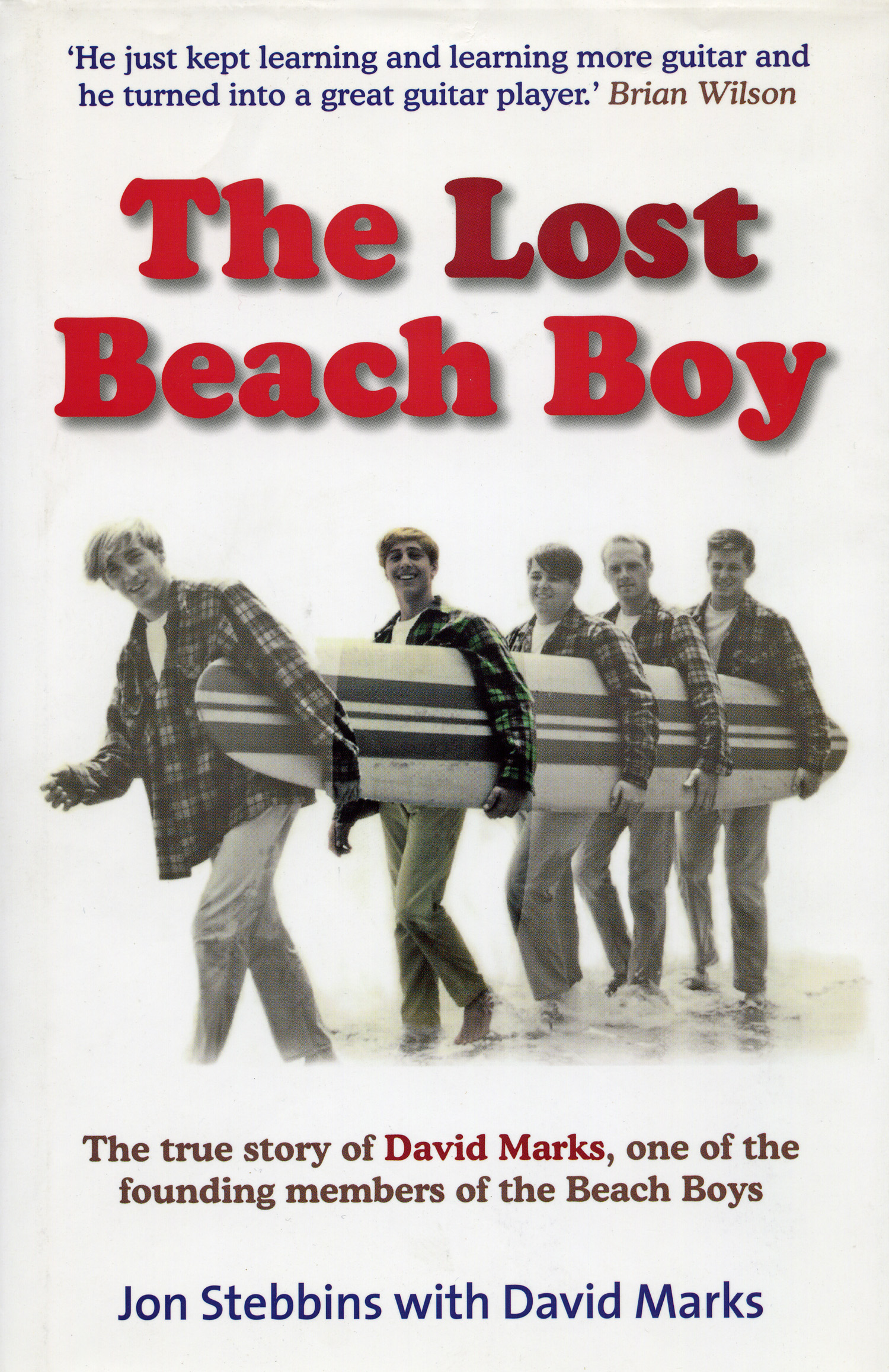 Virgin Books, 2007
His name may not be familiar, but David Marks was one of the original founding members of the Beach Boys. His signature joined those of Brian, Carl, and Dennis Wilson and their cousin Mike Love at Capitol Records in 1962. He grew up with the Wilson family, moving into a house across the street from them, and started playing music with them soon after. His signature sound is on "Surfin' U.S.A.," "Shut Down," "Hawaii," and many more. He played and sang on the Beach Boys' first string of national sold-out tours and television appearances. Then one day he vanished from the public eye. Over time, David's name disappeared from the history books and the Beach Boys' story was rewritten, without David's name. For many years, the public and critics were unaware of the important role David Marks played in the formation of the Beach Boys. For the first time, the truth is behind one of the most influential bands ever is revealed here. As a lifelong friend of each member of the band, David Marks is uniquely placed to bring this extraordinary story to life. This is the compelling true story of one of the greatest bands of all time.