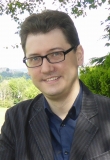 Thomas A. Christie is a Scottish author based in the United Kingdom. He has written a number of books on the subjects of modern literature, interactive fiction, cult cinema and popular culture.
Tom holds a PhD in Scottish Literature from the University of Stirling. He has also been awarded a Bachelor of Arts degree in Literature with first-class Honours and a Master's degree in Humanities, specialising with distinction in British Cinema History,from the Open University in Milton Keynes, England. A passionate advocate of the written word and literary arts, he is a member of several writers' organisations including The Society of Authors, The Federation of Writers Scotland, and The Royal Society of Literature.
He is regularly involved in public speaking events, and has delivered guest lectures and presentations about his work at many locations around Great Britain. Additionally, he has collaborated on editorial projects as well as contributing chapters and articles on a variety of topics which have ranged from retro videogaming and computer history to music and popular television.
Full details of Tom's bibliography can be found on his website at www.tomchristiebooks.co.uk.
---
A Righteously Awesome Eighties Christmas: Festive Cinema of the 1980s
Extremis Publishing Ltd, 2016
The cinema of the festive season has blazed a trail through the world of film-making for more than a century, ranging from silent movies to the latest CGI features. From the author of The Christmas Movie Book, this new text explores the different narrative themes which emerged in the genre over the course of the 1980s, considering the developments which have helped to make the Christmas films of that decade amongst the most fascinating and engaging motion pictures in the history of festive movie production.
---
The Spectrum of Adventure: A Brief History of Interactive Fiction on the Sinclair ZX Spectrum
Extremis Publishing Ltd, 2016
The Sinclair ZX Spectrum was one of the most popular home computers in British history, selling over five million units in its 1980s heyday. Amongst the thousands of games released for the Spectrum during its lifetime, the text adventure game was to emerge as one of the most significant genres on the system.