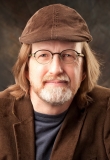 Ronnie Lankford is a freelance writer and independent scholar who has been writing about folk, rock, and pop for over ten years. His first book, Folk Music USA, was a popular history of the American Folk Revival (1958-65), and published by Schirmer in 2005. His second book, Women Singer-Songwriters in Rock, was published by Scarecrow Press in 2010.
---
Coming soon
Consuming Christmas Carols
Read the proposal for the new book
---
Folk Music USA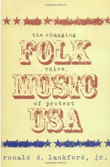 Schirmer Trade Books, 2005
This definitive story of American folk music focuses on how a minority music genre suddenly became the emergent voice of a generation at the end of the Eisenhower years. From Kingston Trio's "Tom Dooley" in 1958 to Bob Dylan's electric performance at the Newport Folk Festival in 1965, folk influenced American culture and eventually became absorbed into popular music. The author also explores how authentic folk is now experiencing a second revival, taking its place in our contemporary fascination with roots music.
---
Women Singer-Songwriters in Rock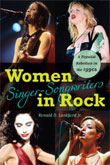 Scarecrow Press, 2009
In Women Singer-Songwriters in Rock: A Populist Rebellion in the 1990s, Ronald D. Lankford Jr. argues that women singer-songwriters formed a substantial movement within popular music during the 1990s, making a significant social and aesthetic contribution that pushed feminism into mainstream American culture. Lankford examines in depth the work of several artists—including Alanis Morissette, PJ Harvey, Liz Phair, Courtney Love, Tori Amos, Sarah McLachlan, and Sheryl Crow—offering thorough descriptions and analyses of their music, lyrics, and album art. By looking at both the broader movement and individual performers, this book provides a comprehensive and accessible overview of the movement and its message.
Lankford introduces the singer-songwriter movement and the artists and genres that paved the way for these 1990s rockers, establishing the arch of the popular movement of women in rock as it mirrored the rise of third wave feminism and sketching the cultural and political landscape that served as a backdrop to the women's singer-songwriter movement during the 1990s. Drawing from resources in books, journals, and zines, Lankford focuses on the exploration of women's issues within the music through analyses of its lyrics and album art and examines how the often hard-edged feminist content was able to filter into mainstream popular culture. To help illustrate this, the book includes a select discography of albums and singles, including their placement and number of weeks spent on various charts. A complete bibliography and index round out this important study, which is a must for fans and scholars of music, popular culture, and women's studies.