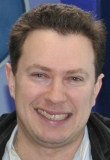 Ian Rusten is a teacher, historian and lifelong music lover. Ian teaches Economics, Government and American History at a small private High School in New York City. Previously, he taught Social Studies at a New York City public school for ten years. Ian discovered his passion for teaching while working in Korea at an English Language School where he quickly realized he could combine his enthusiasm for education and history by becoming a high school history teacher. He received a B.A. in History and Classics, an M.A. in Social Studies Education and a second M.A. in American History from Hunter College.
Ian cultivated his love of the Beach Boys after hearing Pet Sounds playing over the radio and from that moment on he has been an avid follower of their music. He has contributed to blogs, articles and books about all aspects of the Beach Boys over the years. Ian finally decided to take the plunge and write his own book with published author, Jon Stebbins. He is currently hard at work writing a comprehensive book about the lives of and performances by the Beach Boys.
Ian lives in New York City with his wife and two daughters.
---