Ian Rusten is a teacher, historian and lifelong music lover. Ian teaches Economics, Government and American History at a small private High School in New York City. Previously, he taught Social Studies at a New York City public school for ten years. Ian discovered his passion for teaching while working in Korea at an English Language School where he quickly realized he could combine his enthusiasm for education and history by becoming a high school history teacher. He received a B.A. in History and Classics, an M.A. in Social Studies Education and a second M.A. in American History from Hunter College.
Ian cultivated his love of the Beach Boys after hearing Pet Sounds playing over the radio and from that moment on he has been an avid follower of their music. He has contributed to blogs, articles and books about all aspects of the Beach Boys over the years. Ian finally decided to take the plunge and write his own book with published author, Jon Stebbins. He is currently hard at work writing a comprehensive book about the lives of and performances by the Beach Boys.
Ian lives in New York City with his wife and two daughters.
---
New Title
The Beach Boys in Concert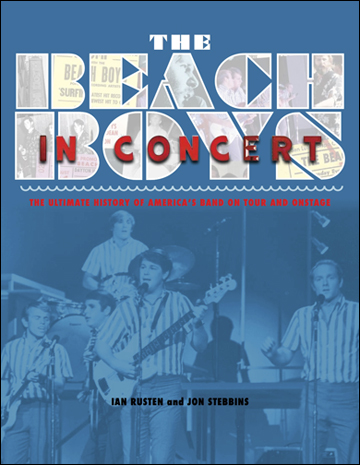 Coauthored with Jon Stebbins
Backbeat Books, 2013
The Beach Boys in Concert is an exhilarating day-by-day journey through the triumphs and tribulations of one of rock's most legendary acts. More than ten years of exhaustive research has produced an unprecedented window into the Beach Boys' thrilling successes, personal tragedies, inter-band dramas, and globe-trotting, rock-and-roll adventures from 1961 to 2012.
The Beach Boys in Concert is a solidly factual and highly entertaining ride from their humble beginnings of driving to local gigs in their mom's station wagon to touring the world in private jets with a massive entourage in tow, from nervously playing to a dozen unimpressed Southern California surfers to performing for a half-million worshipping fans on the National Mall. The evolution and growth of an entertainment phenomenon is captured here in a far more detailed way than ever before.
The Beach Boys in Concert is the ultimate document for fans when it comes to the group's career as concert performers; no other publication comes close to this tome in scope, detail, and definitive quality. Adding to the feast is an extensive collection of unpublished photos and rare memorabilia images that bring fans deeper into the context of any given era covered in the book. This detailed, illustrated 50-year Surfin' Safari will blow your mind!