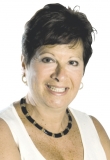 Sue-Ann Levy, is a Canadian writer. She is a political columnist for the Postmedia Network media company in Canada. Levy was hired by the Toronto Sun in the 1980s and was the newspaper's long-time City Hall columnist. Her writing now focusses primarily on the Legislative Assembly of Ontario (Queen's Park), the seat of the Government of Ontario, as well as municipal and social issues. She is the author of the book Underdog: Confessions of a Right-Wing Gay Jewish Muckraker (2016) and also appears as a regular guest on the John Oakley Show on Talk 640, was previously a panelist on CBC Radio's local afternoon drive show "Here and Now", as well as an occasional commentator or panelist over various cable news channels.
To read more from Sue-Ann, visit her column at The Toronto Sun and her Twitter page.
---
Underdog
McClelland & Stewart, 2016
Hold onto your hats: popular and controversial Toronto city journalist Sue-Ann Levy -- a self-described nice, chubby, Jewish, gay, conservative girl -- takes on the establishment and establishment thinking in this provocative, honest, and insightful memoir that will surprise her fans and foes alike.