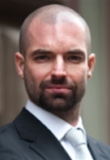 Roman Chlupaty is a journalist, lecturer, and consultant who specializes in the global economy, politics and the intersection of these two worlds. He studied international relations and economics at the University of Toronto, global political economy and communications theory at Aarhus Universitet, Universiteit van Amsterdam, and City University London. He was a teaching assistant at the University of Toronto and has guest lectured at a number of universities.
He has conducted interviews about how the world works (or not) with advisors to the US president and heads of TOP 20 global financial institutions as well as with Karen rebels on the Burmese-Thai border and villagers in Madagascar. He cooperates with the Czech broadcast of radio BBC and his work and expert opinions have appeared in the likes of French OWNI, Chinese FT and Maltese TV ONE. His book, (S)our Earth, in which he looks at areas and trends that will change the world not only in this decade, was published in the Czech Republic in 2010. In 2012, he published The Twilight of Homo Economicus, the first book in the Double series in which he debates the economy, economics, and all things related with original thinkers from around the world. The second book in the Double series, (R)evolutionary Economy, was published in November 2013.
---
The Evolution of Money
Columbia University Press, 2016
The sharing economy's unique customer to company exchange is possible because of the evolution of money. These transactions haven't always been as fluid as they are today, but they are likely to become even more so in the future. It is therefore critical that we learn to appreciate money's elastic nature as deeply as do Uber, Airbnb, Kickstarter, and other leading innovators, and that we better comprehend money's transition from hard currencies to cryptocurrencies, such as Bitcoin, to access their cooperative potential.