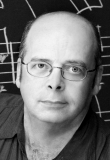 Rick Blechta brings a musician's viewpoint to the thriller genre in novels that have been praised for an insider's knowledge of the music world. Besides writing and musical pursuits, he has been very active in Crime Writers of Canada, serving in virtually every executive position. In 2000, he was presented with the Derrick Murdoch Award for contributions to the organization. In 2006, his novel Cemetery of the Nameless was a finalist for the Arthur Ellis Award as Best Novel. His book, Run Down recieved the 2017 Arthur Ellis Award for Best Novella. He lives in Toronto.
For more information about Rick, visit www.rickblechta.com
---
Run Down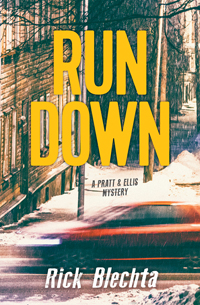 Orca Book Publishers, 2016
2017 Arthur Ellis Award Winner for Best Novella
Toronto homicide detectives Pratt and Ellis are brought in to investigate a series of hit-and-runs. Someone seems to be trying to kill random people using stolen cars. The detectives try to find any connections between the victims that might indicate something else at work. What they discover is beyond their wildest imagining.
---
Roses for a Diva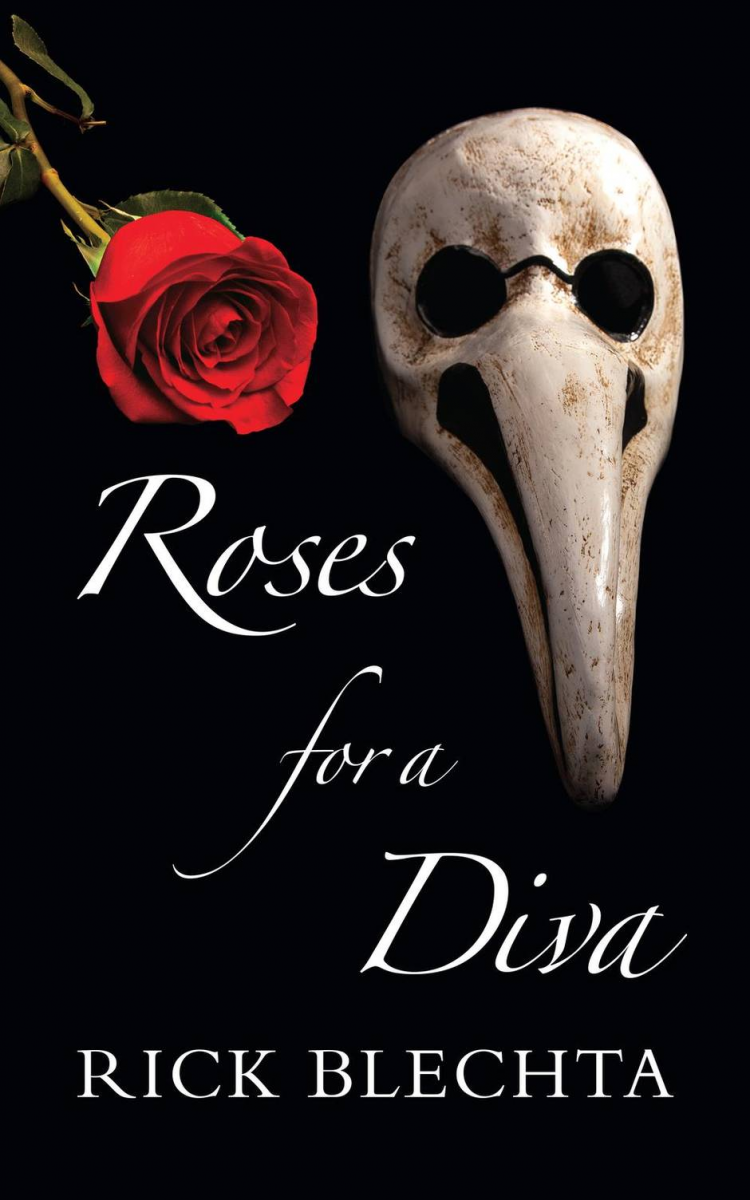 Dundurn Press, 2014
When soprano Marta Hendriks finds a bouquet of red roses in her dressing room after a performance, she's surprised as well as charmed. The card only says "Roses for a Diva." And as miles and performances rack up in her globe-hopping career, the bouquets continue to mysteriously appear.
But then strange things start happening in her private life. She's certain someone has been in her apartment, breaking her most treasured possession. After calling in private investigator Shannon O'Brien, Marta is shocked to discover her entire life has been invaded.
When one of the other stars in a Roman production of Tosca is murdered, everyone realizes the situation is more dire than they had imagined. Who Marta's stalker? What does he want? And where will he stop?
"Toronto's Rick Blechta gets better and better. This time out, he's turned to his extensive knowledge of music for a delightful mystery set in the dramatic and cat-fighting world of grand opera. The Diva is soprano Marta Hendriks, a globe-trotting beauty with a regal voice and temperament to match. When a fan starts leaving bouquets of roses in her dressing room, she's charmed. But as she travels, so do the flowers, always with the same nameless message. It seems harmlessly sweet until strange things start happening: a treasure broken in her apartment, a feeling of being followed. Marta calls in private investigator Shannon O'Brien to see if she's being stalked or if it's just a star's nerves. Then someone dies and the strange bouquets take on a whole new meaning." The Globe and Mail
---
The Boom Room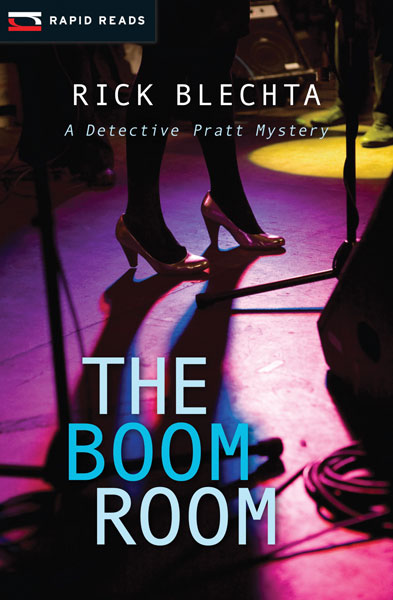 Orca Book Publishers, 2014
Detective Mervin Pratt is enjoying a quiet dinner at his favorite Italian restaurant when he's called in to assist at a murder scene at a popular downtown nightclub. The manager has been stabbed to death in his office. The lead investigator, Detective Gordon, no friend of Pratt's, sees it as an open-and-shut case. He has the suspect, motive, and even the murder weapon. But Pratt is unwilling to jump to conclusions.
When Pratt's young partner, Dave Ellis, arrives on the scene uninvited and quietly tells Pratt that the suspect is his half brother, Pratt finds himself in an ethical dilemma. Ellis can have nothing to do with the investigation, and his connection to the case should be reported. On the other hand, Gordon's attempt to railroad the suspect and his outright antagonism to Pratt's involvement rub the detective the wrong way. The only solution, of course, is to solve the crime.
---
The Fallen One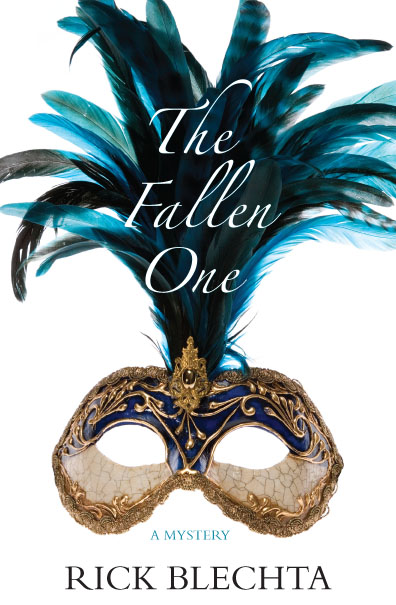 Dundurn Press, 2012
Marta Hendriks is onstage at the Metropolitan Opera in New York when she learns of her beloved husband's death in a house fire. Overcome, she collapses and has to be carried off the stage.
Fast-forward two years and countless therapy sessions, and Marta is ready to resume her career. In a stroke of luck, she's hired at the last moment to sing Violetta for the Paris Opera. She manages to keep her emotions under tight control and triumphs in the opening-night performance. During one of her rare days off, relaxing for the first time since her husband's accident, something threatens her newfound peace. When Marta is caught in a sudden downpour, she dashes for the shelter of a subway station and spots someone doing the same. It is her husband. Marta fears she's losing her mind—or did she actually see him? Back home in Toronto, she struggles with her need for the truth at the precipice of madness.
"Classical music lovers will welcome this compelling mystery from Arthur Ellis Award–finalist Blechta . . . . The suspense will keep readers turning the pages until the dramatic conclusion." Publishers Weekly
---
Orchestrated Murder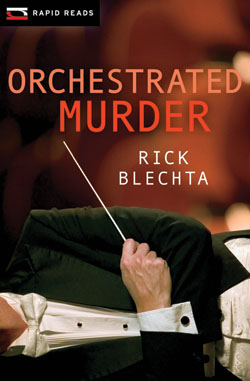 Orca Book Publishers, 2011
Murder, music and mayhem—one dead body; seventy-six suspects!
Something is terribly wrong at Symphony Hall. Luigi Spadafini, the symphony's star conductor, has been murdered—and the entire orchestra has confessed to the crime. This is the mess that Detective Lieutenant Pratt walks into one Saturday morning. Overworked and tired, he's also saddled with Detective Ellis, the newest member of the homicide squad and still very wet behind the ears.
With both the mayor and several big shots from the symphony's board of directors demanding a speedy resolution of the crisis, Pratt is pushed to the limit. The trouble is, he also faces a seemingly endless list of suspects with good reasons to want the philandering Spadafini dead. With the clock ticking, Pratt is forced to use both his wits and the computer skills of Detective Ellis to solve the mystery.
"A vibrant closed-room police procedural sure to resonate with readers." Library Journal
"A finely-tuned gem of a story built on the powerfully-political dynamics of today's highly-strung orchestras . . . Orchestrated Murder is a tangled little mess with a satisfying conclusion." Hamilton Spectator
"The pace is lively, and would easily draw the reluctant reader along." NMRLS Youth Services Book Review
"Rick Blechta has wound a murder mystery with twists, turns and on-the-edge-of-your-seat suspense. The storyline moves quickly . . . . A good, fast-paced read. Highly Recommended." CM Magazine
---
A Case of You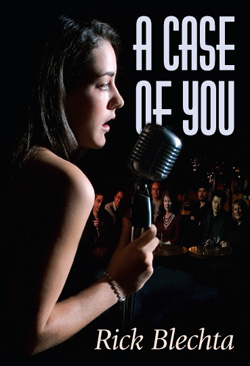 RendezVous Crime, 2008
"She had a voice like an angel, smooth and complex as a twenty-year-old single malt, rich as thick cream. Everyone who heard Olivia sing felt as if she could see right into their souls, that her songs were meant for them alone. This was the magic her artistry conjured. In earlier times, she would have been put to death as a witch. Such was the talent of Olivia Saint."
Meet Andy Curran, drummer in a struggling jazz trio. When a distinctly odd street person sings at an open mic night at the club where they work, it's clear they've found their salvation: a vocalist of incredible talent. After she departs as abruptly as she'd arrived, Andy sets out to discover where Olivia Saint has gone and who she really is. That knowledge soon proves to be deadly indeed.
In A Case of You, a crime novel that sweeps from the jazz clubs of Toronto, to New York City and Northern California, Rick Blechta has created a compelling story, rich in detail and compassion, and populated with characters not easily forgotten.
". . . as mournfully real as the song it's named for." London Free Press
". . . an impressive piece of writing . . . a must read." Hamilton Spectator
". . . a compelling tale . . . his best novel to date." Sherbrooke Record
Interview in Open Book Toronto
Interview in The Mark News
---
When Hell Freezes Over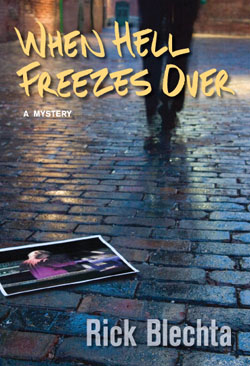 RendezVous Crime, 2006
Michael Quinn, former rock star, turned his back on a band on the verge of superstardom twenty-four years ago. He's spent his life since hiding from everything he'd been. When a woman chased by thugs jumps into his car, he tries to help. But this sets in motion a chain of events which turns his life upside down, even more so when his best friend is murdered and the girl disappears.
Meanwhile, the thugs are looking for Michael. Only by finding the mystery girl can he hope to get out of a hole that's getting bigger. Now he must confront what he was, what he is now and what he might have been.
---
Cemetery of the Nameless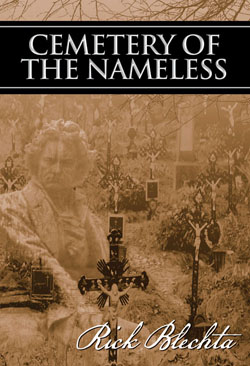 RendezVous Crime, 2005
Victoria Morgan, violin virtuoso extraordinaire, and her devoted piano accompanist are on yet another European tour currently stopping in Vienna.
While playing to a full house, Tory leaves the stage and disappears in the middle of this important concert, leaving behind a puzzled (and angry) audience. Why would a seasoned professional so intent on maintaining her well-established career do something so damaging? Especially after some very negative reviews from local press?
Tory's decision to leave proves to be especially fatal to her career, since the rumours of her disappearance involve the accusation that Tory has committed the brutal murder of a high profile Viennese figure. While the press continues to hound everyone who knew Tory for answers, it appears she is running from them, the police and her long-suffering husband Oscar Lukesh, affectionately known as Rocky. Or is she?
The action is set around the appearance of a mysterious score for a recently discovered violin concerto of incredible worth. Is it truly by Beethoven as the owner claims, and will Tory be the first to debut this dream violin piece, or are all of these things just hollow promises and a way to bait a trap?
Now it looks like it's up to Rocky to help save Tory from herself and figure out who is committing the growing number of murders—if it really isn't his wife.
Finalist, Arthur Ellis Award for Best Novel, 2006
"This new novel by Rick Blechta is excellent. Whether it's the terrific plot or the spectacular location, or just plain good writing, the book is hard to put down." The Globe and Mail
"Rick Blechta is fast making his way up the ranks of the newer generation of Canadian crime writers and Cemetery of the Nameless should only serve to hasten his progress." Peter Robinson, author of the Inspector Banks series
"Rick Blechta is a musician first, a writer second. When he combines the two he produces magic with an intense, suspenseful story that will not let you go." reviewingtheevidence.com
---
Shooting Straight in the Dark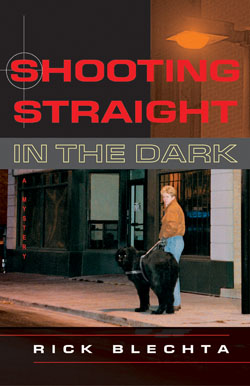 McClelland & Stewart, 2002
Thirty-year-old Kit Mason has been blind for six years, and she still hasn't accepted what has happened to her. Not only is her career as a songwriter/guitarist stalled, but her personal life is the pits. Kit's closest friends, Carolina, Susan, Marion, and Jackie, all members of her former softball team, the Ruthless Babes, have encouraged her to branch out in her music, and decide—during a ribald and beer-fuelled get-together—to kick-start her social life with a companion-wanted ad in a Toronto newspaper.
Before the plans can take effect, however, one of the Babes is brutally murdered. The police are sure that she was the victim of a serial killer who is on the loose, but the Babes, shattered though they are, begin to suspect that the police are wrong.
With the fighting spirit that served them well on the baseball diamond, they throw themselves—sometimes literally—into the investigation, much to the annoyance of the police detective assigned to the case. What they find puts them all at risk, and affects Kit's life in ways she never could have expected—just when her musical career and her love-life are taking a turn for the better.
Shooting Straight in the Dark, full of the atmosphere of the music business and the affectionate banter of good friends, is smart, funny, and crammed with suspense.
"Rick Blechta's third novel has a lot to recommend it, including the author's insider knowledge of the music business." The Globe and Mail
"It is a shame that Rick Blechta is following a career in the music industry because he has a great future as a novelist. Shooting Straight in the Dark is a fun and entertaining novel that will lift the spirit of anyone who reads it." reviewingtheevidence.com
---
The Lark Ascending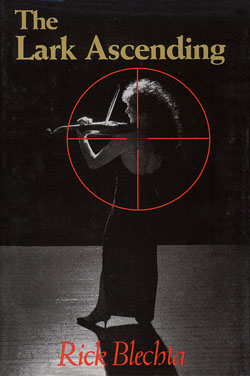 Castlefield Press, 1993
Victoria Morgan is a rising, young violin virtuoso who doesn't always have her feet firmly planted on the ground. She's invited to play at a prestigious music competition in London. The only prize is a Stradivarius violin—and worldwide media attention.
Accompanied on the trip by her trumpet-playing husband, it doesn't take long for trouble to happen. A fellow competitor and good friend of Tory is murdered—and it looks as if Tory's next. In order to save her life while they try to discover what in heaven's name is going on, Tory and Oscar (whom everyone calls Rocky—you'll have to read the book to find out why!) take off into the English countryside.
The solution is not what they would ever have imagined, and sorely tries their relationship, tests their resolve and ultimately shows them the value of true friendship and honesty. And you thought classical musicians are dull . . .
"Rick Blechta has written a suspenseful novel, with real people and real places. His characters are always convincing, never phony and stiff. He makes good use of a country that is filled with beautiful scenery and rich in history. A most entertaining novel." Regina Leader Post
"Besides being a good story, the novel gives a superb account of the day-to-day life of classical musicians. Readers will be tempted to buy some, or all, of the repertoire described in this highly recommended story." Canadian Book Review Annual
". . . some of the musical feelings experienced when reading the book were so evocative, we went out and purchased all the music that 'Tory 'played'. A fine read." Merchant of Menace
---
Knock on Wood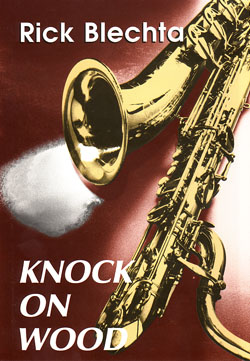 Castlefield Press, 1992
Chris McKessock, part-time sax player and substitute school teacher, is content to drift through life, but that's about to be turned upside-down. An old friend who also happens to be a police detective talks him into helping an undercover operation against a gang of particularly clever drug dealers, hurling Chris into a sordid world of blackmail, cocaine smuggling, and sudden death. When their first solid lead in the case is murdered and an intriguing woman enters his life, Chris realizes he has a personal stake in the outcome.
Set against a background of classic Rhythm & Blues music and contemporary classroom hell, Knock on Wood is told in the wryly observant words of a reluctant and unlikely hero, scrambling to make a living in the wilderness of the New York suburbs and minding his own business—until life catches up with him.
". . . convincing characters and some good local colour." Books in Canada
"It's an intriguing tale, full of unexpected corners and personalities. The thought that your substitute teacher might have a life like this would fascinate most people. I read it straight through." Coastal Maine News
"A good read. The characters are memorable and the action nonstop. Blechta manages to create considerable tension as the story reaches its climax." Canadian Book Review Annual