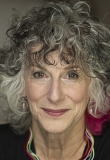 Mavis Himes, Ph.D., is a practicing psychoanalyst in Toronto where she maintains a full-time private practice. She is also a clinical consultant at Wellspring, a cancer centre for patients and their families.
Himes is the author of The Sacred Body: A Therapist's Journey, a book about her work with cancer patients, published by Stoddart in 2002, as well as numerous articles and book chapters on Lacanian psychoanalysis that have been published in a number of North American and French journals and books. She has also given numerous presentations on psychoanalysis to a variety of audiences.
Himes is director of the Speaking of Lacan Psychoanalytic Group, a Toronto-based forum dedicated to the study of Lacanian psychoanalysis. As part of this work, she organizes a series of lectures entitled "Psychoanalysis and the Arts: In Conversation," in which she has had dialogues with artists from various disciplines, including Peggy Baker (Peggy Baker Dance Projects), Matthew Jocelyn (artistic director of Canstage), Richard Rose (artistic director of Tarragon Theatre), Diego Matamoros (actor), and Antoni Cimolino (artistic director of the Shakespeare Festival in Stratford, Ontario).
Mavis Himes holds a Ph.D. in Psychology from the University of Toronto and subsequently completed her analytic formation in Lacanian psychoanalysis at the Apres-Coup Psychoanalytic Association in New York City.
For more information about Mavis Himes, visit www.mavishimes.com
---
The Power of Names
Rowman & Littlefield, 2016
Our proper name is as much a part of us as our own skin. It travels with us like a passport, testifying to our unique presence on this earth. The articulation of our name rolls off our tongue with ease and familiarity, yet we rarely turn and examine the part our name plays in what makes us who we are. Our first name reflects the hopes and dreams of our parents and family, our culture, and our own sense of self, while our surname carries our ancestral history, a branding of both affiliation and transmission.
In The Power of Names, Mavis Himes explores both the profound ambivalence that many of us feel toward our names and the conscious and unconscious impact our names have on our lives, sometimes for good and sometimes for ill. She explores such questions as: What do our names mean? How do they influence our destiny? What does it mean to lose or change our name - and what does this reveal or conceal about who we are?
Himes engages readers through a skillful interweaving of reflections on her own Jewish surname, shortened by immigrant ancestors to accommodate a new life in a new world; the historical and cultural impact of a group on naming practices; the various ways different cultures celebrate the naming of infants; the power of names in myth and legend; and the impact of names on friends and patients from her practice. Readers are invited to consider their own names, the names they give others, and the names of those around them as a starting point for understanding the stories of our lives.