John Corcelli was born and raised in Toronto. He's a musician, actor, radio producer, and writer. He considers music his "religion," with a love for all its forms, especially Jazz. He graduated from Ryerson University in 1984 with a Radio & Television Arts degree, one that laid the foundation for a career in broadcasting with radio as his preferred format to educate and entertain.
Since 2009, he's had the privilege of working for the Canadian Broadcasting Corporation in its prestigious music library. Before that, he worked on the award winning digital archives website as a researcher and writer. He's a regular contributor to two CBC programs, Inside the Music and the Sunday Edition, while supporting the work of producers on CBCMusic.ca.
To mark the 100th anniversary of its sinking, he produced a documentary about the musicians who played on the Titanic, called Hartley's Violin.
John plays clarinet, guitar, and occasionally sings. He's currently a member of the Festival Wind Orchestra, led by conductor, Keith Reid. The amateur orchestra performs two major concerts a year.
---
Frank Zappa FAQ: All That's Left to Know About the Father of Invention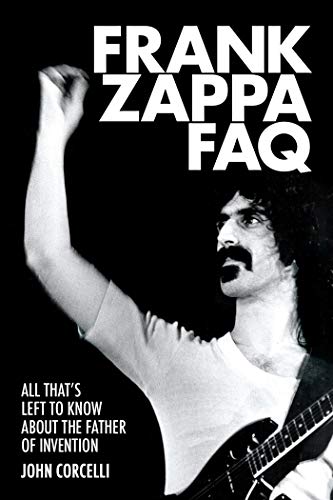 Backbeat Books, 2016
In this volume, author John Corcelli reveals Zappa's roots as a musician, from his diverse influences to his personal life. We also learn more about his former band members and the enormous musical legacy inherited by his son, Dweezil. The book features a juried examination of Zappa's recordings and his videos. It also features a complete discography and a recommended reading list. Each chapter has a special focus on Zappa's life, with sections covering his family, his home studio known as the Utility Muffin Research Kitchen his keen interest in the Synclavier (a device he first used in 1980), his guitars, and more. Special attention is paid to the Mothers of Invention. Frank Zappa FAQ is a must-have for fans new and old looking to delve into some of the best music ever made by one of the most innovative artists the world has known.