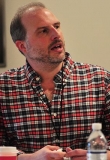 Stephen Thomas Erlewine, otherwise known as Tom Erlewine -- has been at All Music Guide since its inception in 1991. Erlewine attended college at the University of Michigan, where he majored in English. While he was a student, he worked at the student radio station, WCBN FM 88.3, as well as the student-run newspaper, The Michigan Daily. At The Daily, Erlewine spent a year as music editor (1993-1994) and another year as general arts editor (1994-1995). During this time, he continued to be actively involved with All Music Guide, contributing written work to the database frequently. In the summer of 1994, he became a co-editor of the rock section of AMG, as well as the associate editor of the second edition of the company's general record guide. The following year, he was an editor of The All Music Guide to Rock, to which he was also a major contributor. From there, he eventually worked his way up to the title of Senior Editor for AMG, writing thousands of record reviews in the process. In addition to being a member of Who Dat?, Erlewine is also a freelance writer and has written a handful of liner notes, including those for Pub Rock: Paving the Way for Punk.
---
All Music Guide Required Listening - Old School Rap & Hip-Hop

Backbeat Books, 2008
With more than 500 reviews plus artist bios and the true tales of the birth of the art form, this is without a doubt the one book every hip-hop fan and would-be rapper needs.
---
All Music Guide to Country

Backbeat Books, 1997
For country music fans everywhere, this is a comprehensive guide to the entire spectrum of the music, from string bands and old-timey country, to new traditionalists, alternative country, and today's Nashville superstars. A wealth of great country music has been made over the course of the 20th century, but unfortunately that music hasn't always been well presented. Country has a history of poorly assembled studio albums, quickly recorded cash-in albums, budget-priced compilations, and rerecordings. This book helps listeners to sort through all of this and find the best recordings of old favorites, as well as to discover some great music they may not have heard before. The All Music Guide to Country points out which albums have all the original recordings, which budget-line collections are actually worth acquiring, and which old records are worth a search. Designed for devoted country fans and newcomers alike, this book is packed with fascinating and informative features, including biographies of more than 1,000 artists and groups, providing thorough and concise overviews of their careers; reviews and ratings of the best recordings of each performermore than 5,500 in all; historical essays and "music maps" charting the roots and evolution of country music, its styles, instruments, key artists, and more; and country resources, including book reviews, magazine listings, online sites, and mail-order sources.