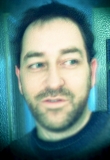 Born and raised on Cape Breton Island, Ed Macdonald has won repeated critical acclaim for his writing, acting and directing. He has written on seasons 2, 3 and 4 of CBC's top rated comedy series This Hour Has 22 Minutes. Ed has also written numerous episodes of the series Made In Canada. He has won three Gemini Awards for excellence in television writing and has been nominated numerous times. He has also won the Writer's Guild of Canada Award and The Golden Sheaf Award.
Other writing credits include The Comedy Network's series Liocracy, starring Leslie Nielsen, in which he also made several appearances as various characters. He was the head writer and one of the stars of the CBC sketch comedy series The Bette Show. Ed has also written and directed the Native comedy pilot, Moose TV starring Adam Beach. He has co-written the award winning series Hatching, Matching And Dispatching, with Mary Walsh. He has also written several screenplays. Most recently, Ed has produced two seasons of The Jon Dore Television Show for Insight and The Comedy network.
As an actor, Ed has appeared on various stages and in TV shows, including Trailer Park Boys, Lexx, Hatching Matching And Dispatching. He was frequently a guest on Open Book With Mary Walsh. His first on camera role was in Daniel Petrie's The Bay Boy.
Ed is a respected playwright as well. For reasons he can't remember, he uses his middle name as a surname when he's writing for the stage. In 2001, his play Gemini opened at the 78th Street Theatre Lab and received great reviews, including a rave from The Village Voice. The play was then re-mounted by NBC for a run in their PSNBC space. Mutant Sex Party, The Escape Artist, Erratica, Hot Meat and Titus Lucretius Carus have all been produced by The Drilling Company. Titus Lucretius Carus has recently been nominated for the New York Innovative Theatre Award.
---
Spat the Dummy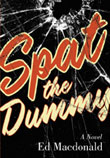 Anvil Press, 2010
Spat Ryan has demons. They haunt him by day and share his drink at night. Raised in Montreal by a bagman for the Irish mob, Spat has fictionalized or ignored chunks of his life too painful to recall. A chance meeting with an old friend of his father's in a bar on the Main exposes the dark secret they've both been harbouring, the secret that has shaped and defined Spat's tumultuous life. Newly divorced and out of control, his decision to tell all and release himself from the past unleashes a storm of change in both
his internal and external life.
Spat the Dummy is a confession—raw and unrestrained, a modern-day Hero's journey to the Underworld and back, a novel about changing history by confronting it.
"This novel is unforgettable both for its subject matter and its form of narration. The style is electrifying and there are images that will burn in the reader's mind forever. Ed Macdonald is a gripping writer."
—Alistair MacLeod, author of No Great Mischief, winner of the IMPA C Dublin
Literary Award
"Spat offers a lesson in brutal honesty: Forget rage against the dying of the light—rage against life itself, until you can't rage anymore."
—Peter Darbyshire, author of The Warhol Gang and Please
[from the book...]
At forty, the iconoclastic Spat Ryan is recently divorced, unemployed and frequently intoxicated. Inspired by the cliché "We're only as sick as our secrets," he decides to reveal himself a piece at a time for the "cure". A deeply sceptical outsider, stunted by many adolescent appetites, he survived his often violent, terrifying past by keeping his darkest truths out of mind. A wholly unpopular student, he remained invisible until he was christened "Big Dummy" by a nun teaching at his junior high. The name Spat the Dummy and an unearned bad reputation, followed him to the end of his miserable school years. more...