Claudia Cornwall, an award-winning freelance writer for over twenty years, has written five books. She has been published in The Globe & Mail, Reader's Digest (the Canadian, the international, and the Mainland China editions), BC Business, as well as the online magazine, Tyee. She teaches writing courses at Simon Fraser University and Douglas College. In March 2009, Cornwall received a $20,000 grant from the Canadian Institutes of Health Research to support its series on health care and research. This series culminated in their sixth book project, Catching Cancer: the quest for its viral and bacterial causes, which was released in March 2013
Claudia Cornwall grew up in Vancouver and studied philosophy at UBC and the University of Calgary. She is married and has a son and a daughter.
For more information about Claudia Cornwall, visit www.claudiacornwall.com
---
Recent Title
Battling Melanoma: One Couple's Struggle from Diagnosis to Cure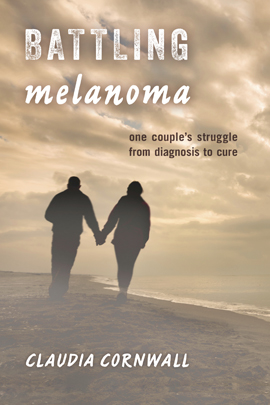 Rowman & Littlefield, 2016
In June 2013, my husband, Gordon, learned that his melanoma had gone metastatic. He had half a dozen tumours in his abdomen and one in his brain. We both wondered whether it was "game-over." I was haunted by a story of Atul Gawande's called Letting Go which describes some of the "heroic measures" that doctors take to prolong lives—doomed remedies that can make patients' last days utterly wretched. Neither Gordon nor I wanted his life to end in such a miserable fashion. Had we reached the point where we should stop looking for a cure and concentrate on living the next few months—as fully as possible? Gordon asked his oncologist, Sasha Smiljanic, what he thought. Dr. Smiljanic was emphatic: Gordon should not give up: he should have his brain tumour removed surgically and then look for a clinical trial of a medicine that would dispatch his other cancers.
Gordon had the surgery and then we began searching for a study. Despite several attempts, we couldn't find anything in Canada for which Gordon qualified. We went further afield. I made dozens of phone calls. Finally, we learned about a study in Texas that had a spot for just two more patients. We scrambled to get Gordon enrolled. He had his first infusion in August 2013 and flew back to Vancouver to see how the medicine would affect him. Would Gordon be one of the lucky ones? The outcome of the treatment was astonishing. Not only did Gordon respond, he responded within in three days!
Battling Melanoma takes a reader through the emotional upheaval that can follow a diagnosis of cancer. It also demonstrates what activist patients can do to help themselves. The world of cancer is changing rapidly, and now with the latest scientific data only a few keyboard clicks away, patients and their families can access the most up to date information and find treatments for conditions that only recently were deemed incurable.
---
Other Titles
Catching Cancer: The Quest for Its Viral and Bacterial Causes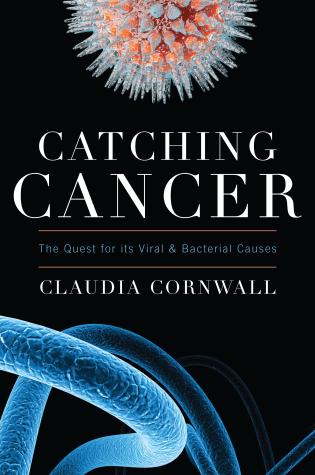 Rowman & Littlefield, 2013
Catching Cancer introduces readers to the investigators who created a medical revolution—a new way of looking at cancer and its causes. Featuring interviews with notable scientists such as Harald zur Hausen, Barry Marshall, Robin Warren, and others, the book tells the story of their struggles, their frustrations, and finally the breakthroughs that helped form some of the most profound changes in the way we view cancer. Claudia Cornwall takes readers inside the lab to reveal the long and winding path to discoveries that have changed and continue to alter the course of medical approaches to one of the most confounding diseases mankind has known. She tells the stories of families who have benefited from this new knowledge, of the researchers who made the revolution happen, and the breakthroughs that continue to change our lives.
For years, we've thought cancer was the result of lifestyle choices, environmental factors, or genetic mutations. But pioneering scientists have begun to change that picture. We now know that infections cause 20 percent of cancers, including liver, stomach, and cervical cancer, which together kill almost 1.8 million people every year. While the idea that you can catch cancer may sound unsettling, it is actually good news. It means antibiotics and vaccines can be used to combat this most dreaded disease. With this understanding, we have new methods of preventing cancer, and perhaps we may be able to look forward to a day when we will no more fear cancer than we do polio or rubella.
"Journalist Cornwall's captivating book integrates biography, history, scientific theory, and molecular biology. It also illuminates the nature of scientific discovery—part personality, brilliance, and perseverance with a smidgen of intuition and luck. The link between infection and cancer is indisputable. Stay tuned as this story continues to evolve." Booklist, Starred Review
"Cornwall's 2010 Canadian Reader's Digest article had an intriguing premise: that some cancers are 'caught' by patients because of specific infections. In this book, Cornwall expands her thesis, delving into the fitful search for microbial causes of cancer by highlighting the work of seven remarkable scientists (including several Nobel Prize winners) who, noticing 'some small aberration from the ordinary,' have managed to inch us that much closer to conquering a scourge that kills 7.5 million people annually." Publisher's Weekly
"Public health measures have taught us for two centuries that the prevention of disease is ultimately far more effective than trying to cure it once it has taken hold in the body. This point is brought home in a compelling fashion in this book, which reveals that one-fifth of cancers worldwide are caused by infectious agents—viral and bacterial—and that these cancers can be prevented by the simple expedient of vaccination. The story of how we have learned about the infectious origins of so many human cancers is told here in an engaging and accessible fashion." Robert Weinberg, Ph.D., Member, Whitehead Institute; Director, MIT Ludwig Center for Molecular Oncology; Professor of Biology, MIT
"I thoroughly enjoyed reading Catching Cancer; it resonated with me on many levels. Claudia Cornwall nicely captured the human side of scientific discovery. The scientists described in this book are, on many levels, regular people with families and friends, just trying hard to make it all work. But they are also gifted, persistent individuals with the ability to 'follow their noses' and use that uniquely human trait of intuition to direct them towards a path that led to paradigm shifting discoveries. Cornwall describes a 'magical' blend of logic, curiosity, perseverance and serendipity that, in the correct proportions, can lead to startling discoveries." John Bell, Ph.D., Senior Scientist, Cancer Therapeutics, Ottawa Hospital Research Institute
---
At the World's Edge: Curt Lang's Vancouver, 1937-1998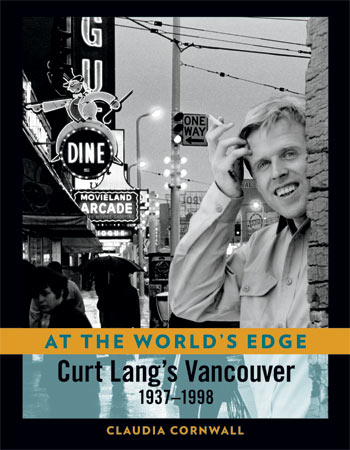 Foreword by David Beers, Introduction by Greg Lang
Mother Tongue Publishing, 2011
This book tells the story of a man and a city. Curt Lang was a legend in Vancouver. An intellectual and a catalyst, Lang's interests spanned many worlds. As a teenager, he met Malcolm Lowry and became friends with Al Purdy. Excerpts of previously unpublished correspondence between Al Purdy and Curt Lang reveal much about both their characters. In his twenties, Curt Lang was a beat, who published poetry and painted. He was friends with many in Vancouver's creative community—poets, Peter Trower, John Newlove, and Jamie Reid; artists Fred Douglas, David Marshall, and Roy Kiyooka; and musicians Al Neil, and Glenn MacDonald. He became a street photographer in the early 1970s (the National Gallery of Canada's Canadian Museum of Contemporary Photography purchased some of his prints). Then, in his thirties, he built boats and fished when the money in that industry was so good, the scene in Prince Rupert was like a Gold Rush. In his forties, he became involved in the high-tech industry, where he was awarded two patents, and started several companies. He also developed hardware and software for the railroad industry that today is used all over North America. Curt Lang's life energetically parallels the evolving history of Vancouver, from the hip subculture years to the electronic postmodern 1990s.
At the World's Edge includes over thirty of Curt Lang's unpublished photographs of Vancouver, as well as previously unpublished drawings, paintings, and poetry.
Shortlisted, City of Vancouver Book Award, 2012
"Cornwall, a local writer and teacher, was a friend of Lang's for the last 12 years of his life. Like so many of those who knew him, she seems to have been struck by the man's manic creativity, his capacity for invention and his eerie ability to find the connective tissue linking one idea or genre to another. The result is her skilfully written combination of biography and memoir . . ." George Fetherling, The Vancouver Sun
"At the World's Edge . . . follows the remarkable life of an East Van kid who, at sixteen, sought out Malcolm Lowry . . . . Cornwall's note-perfect attention to detail and her seamless arrangement of the voices Lang sang with [is] a 'choral history.'" Michael Turner, Geist
"Curt Lang was one of those people who manage to be inside something that is happening before most people really understand its importance . . . a journey Claudia Cornwall masterfully traces in her new book." David Beers, TheTyee.ca
---
The Life & Art of Frank Molnar, Jack Hardman & LeRoy Jensen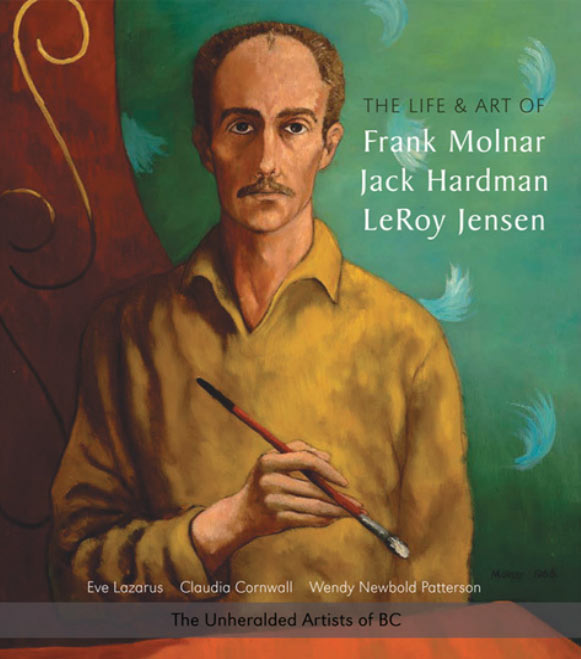 #2 in the Unheralded Artists of BC series
Coauthored with Eve Lazarus and Wendy Newbold Patterson
Introduction by Max Wyman
Mother Tongue Publishing, 2009
The Unheralded Artists of BC is a beautiful, lively and well-written series dedicated to introducing many forgotten 20th-century BC artists to the people while recognizing their artistic significance.
Filled with rare art reproductions and artists' personal photographs, this second book in the series introduces the talent of three BC artist-mentors who worked and exhibited from the 1950s on in Vancouver, Burnaby, Victoria and Salt Spring Island, yet are known only to a few. Their common bond was their choice not to embrace, chameleon-like, the various artistic trends of the era, but to work passionately towards perfecting their own "timeless and individuated styles." This book honours their important contribution to the BC art scene and tells the untold stories. A must for anyone interested in BC history or Canadian art and politics.
---
Letter from Vienna: A Daughter Uncovers Her Family's Jewish Past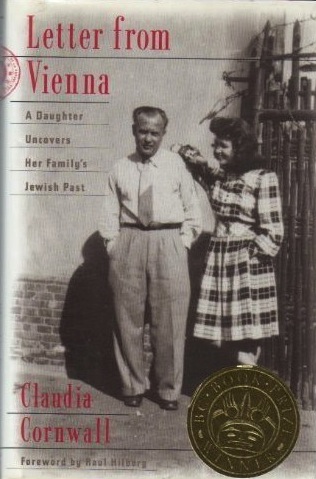 Foreword by Raul Hilberg
Douglas & McIntyre, 1995
An innocent request to an uncle in Vienna for family photos spurs Claudia Cornwall to delve through her family history to find her Jewish roots. Her parents, she discovers, fled Nazi Germany and set up a Christian household in Shanghai to protect themselves. This book gives a picture of the subterfuges that Jewish refugees had to use to survive and give their children security.
Winner, British Columbia Book Prize for Nonfiction, 1996