Michael Arntfield, PhD, is a veteran police officer, professor, and television host. Known by his students as "Profficer," an endearing blend of his academic and law enforcement professions, he teaches criminology at Western University and is a previous visiting Fulbright Chair at Vanderbilt University. With fifteen years of experience as a police officer, Arntfield offers a unique perspective into unsolved murder cases that combines suspenseful storytelling, academic knowledge, and investigative technology. He is the lead investigator on the true-crime series To Catch a Killer on the Oprah Winfrey Network in Canada and is the author of Murder City: The Untold Story of Canada's Serial Killer Capital. He is also Director of the Murder Accountability Project in the United States and both the founder and Director of the Western University Cold Case Society in Canada.
When he isn't teaching, investigating cold cases, or writing about them, he is researching long-term crime trends and developing new television projects. His latest research is on cyberbullying, social media, and psychopathy.
For more information about Michael, visit www.michaelarntfield.com
---
New Title
Mad City: The True Story of the Campus Murders That America Forgot

Prometheus Books, 2017
In fall 1967, friends Linda Tomaszewski and Christine Rothschild are freshmen at the University of Wisconsin. The students in the hippie college town of Madison are letting down their hair—and their guards. But amid the peace rallies lurks a killer.
When Christine's body is found, her murder sends shockwaves across college campuses, and the Age of Aquarius gives way to a decade of terror.
---
Previous Titles
Murder in Plain English

Prometheus Books, 2017
This is the first book to examine murder through the written word--not only the writings of the killers themselves, but also the story of murder as told in literary fiction and the crime dramas that are now a staple of film and television. The authors--a criminologist specializing in cold cases, written evidence, and forensic science, and an anthropologist who has dealt with the signs and ciphers of organized crime and street gangs in his previous work--are widely recognized experts in this emerging specialty field. Based on extensive research and interviews with convicted murderers, the book emphasizes the often-overlooked narrative impulse that drives killers, with the authors explaining how both mass and serial murderers perceive their crimes as stories and why a select few are compelled to commit these stories to writing whether before, during, or after their horrific acts.
Murder City: The Untold Story of Canada's Serial Killer Capital

FriesenPress, 2015
Like the mythic cities of Gotham or Gomorrah, London, Ontario was for many years an unrivalled breeding ground of depravity and villainy, the difference being that its monsters were all too real.
In its coming to inherit the unwanted distinction of being the serial killer capital of not just Canada—but apparently also the world during this dark age in the city's sordid history— the crimes seen in London over this quarter-century period remain unparalleled and for the most part unsolved. From the earliest documented case of homicidal copycatting in Canada, to the fact that at any given time up to six serial killers were operating at once in the deceivingly serene "Forest City," London was once a place that on the surface presented a veneer of normality when beneath that surface dark things would whisper and stir. Through it all, a lone detective would go on to spend the rest of his life fighting against impossible odds to protect the city against a tidal wave of violence that few ever saw coming, and which to this day even fewer choose to remember. With his death in 2011, he took these demons to his grave with him but with a twist—a time capsule hidden in his basement, and which he intended to one day be opened. Contained inside: a secret cache of his diaries, reports, photographs, and hunches that might allow a new generation of sleuths to pick up where he left off, carry on his fight, and ultimately bring the killers to justice—killers that in many cases are still out there.
Introduction to Forensic Writing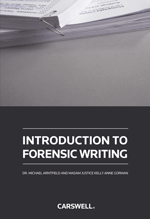 Carswell, 2014
Introduction to Forensic Writing is a guidebook to help navigate the writing process for all forms of documents and records that may ultimately end up in court. This book analyzes the best practices for the creation and management of written reports, documentary evidence, correspondence, crime scene notes and reports. Risk management guidelines for organizations that handle these documents are a must as are the precedents and standards. Guidance is also provided to assist those who introduce this evidence in court.
Writing samples provide practical assistance together with an examination of strategic approaches to writing for a variety of professions and disciplines intersecting with law and governance