Michael Arntfield, PhD, is a professor in the English and Writing Studies Department at Western University where he specializes in true crime, investigative reporting, and forensic writing, forensic linguistics, and forensic stylometry. He also holds secondary positions as affiliate faculty in both the Criminology Department at Wilfrid Laurier University, and in the Centre for Research in Forensic Semiotics at the University of Toronto's Victoria College. He is a former police officer whose career included tours in a number of specialized areas ranging from intelligence to major crimes to robbery, as well as assignment to specialized task forces as a search warrant writer. He is also the host of the true crime reality series To Catch a Killer on the Oprah Winfrey Network (Canada) and he regularly serves as an investigative consultant and commentator for various media outlets and news documentary programs, including the CBC's The Fifth Estate.
For more information about Michael, visit www.michaelarntfield.com
---
New Title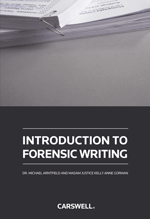 Introduction to Forensic Writing is a guidebook to help navigate the writing process for all forms of documents and records that may ultimately end up in court. This book analyzes the best practices for the creation and management of written reports, documentary evidence, correspondence, crime scene notes and reports. Risk management guidelines for organizations that handle these documents are a must as are the precedents and standards. Guidance is also provided to assist those who introduce this evidence in court.
Writing samples provide practical assistance together with an examination of strategic approaches to writing for a variety of professions and disciplines intersecting with law and governance. - See more at: http://www.carswell.com/product-detail/introduction-to-forensic-writing/#sthash.hz5uneNv.dpuf
---
Forthcoming Title
Writing for Professional Success in Healthcare (Broadview Press, 2015)