Lee Mellor is an author, singer-songwriter, and music producer. Born in Chester, England, and raised in Bowmanville, Ontario, he now spends much of his life on the road. His first book Cold North Killers: Canadian Serial Murder, released in March 2012, chronicles 60 cases of serial homicide in Canada, providing basic criminological context and analysis for some of our nation's most heinous crimes. Currently, he is working on a follow up, Rampage: Canadian Mass Murder and Spree Killing, to be published in early 2013.
Musically, Mellor has met with positive reviews - his lyrics compared to the writings of Ernest Hemingway and Timothy Findlay. From 2007-2009 (when he left the city), he was voted among Montreal's top ten singer-songwriters. In 2008, he placed third next to Leonard Cohen and Rufus Wainwright. His albums Ghost Town Heart (2007) and Lose (2011) are currently available on CD Baby, iTunes, and most online music retailers. He has also produced E.P.'s for Montreal chaunteuses Roses and Kristen Bussandri.
A music critic for the online magazine St. Johns's "The Scene," Mellor has written reviews of acts ranging from Newfoundland storyteller Ron Hynes to The Sam Roberts Band.
www.leemellor.com
Lee Mellor on Facebook
Lee Mellor on Twitter
---
New Title
Rampage: Canadian Mass Murder and Spree Killing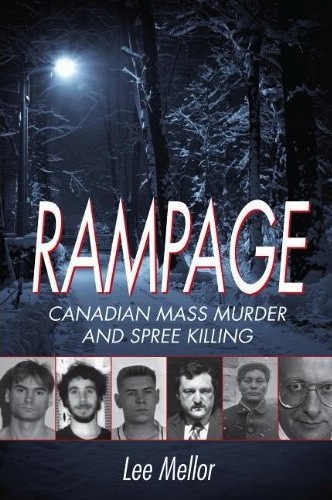 Dundurn Press, 2013
Rampage: a state of anger or agitation resulting in violent, reckless, and destructive behaviour. In 1989, Marc Lepine mercilessly executed 14 female students at Montreal's École Polytechnique to become Canada's most notorious mass murderer. The following year spree killer Peter John Peters roamed from London, Ontario, to Thunder Bay, leaving a trail of bloodied bodies, broken dreams, and stolen vehicles. Both men experienced the same devastating destiny — they embarked on homicidal rampages that shook their nation to the core.
Lee Mellor has gathered Canada's 45 most lethal mass and spree killers into a single work. Rampage details their grisly crimes, delves into their twisted psyches, and dissects their motivations to answer the question every true crime lover yearns to know: why? If you think serial killers are dangerous, prepare for something deadlier...
---
Recent Title
Cold North Killers: Canadian Serial Murder
Dundurn Press, 2012
There are more than 60 serial murderers in Canadian history. For too long awareness of serial murder in Canada has been confined to West Coast butcher Clifford Olson and the "Schoolgirl Murderers" Paul Bernardo and Karla Homolka, along with the horrific acts of pig farmer Robert Pickton. Unlike our American neighbours, Canada has been viewed as a nation untouched by the shadow of multiple murder. Then came Colonel Russell Williams and his bizarre homicides and serial home invasions, which were sensational news worldwide on the Internet and television and in scores of newspapers and magazines.
The reason for Canada's serial killer blackout is clear: until now such information has never been compiled and presented in a single concise work. Cold North Killers is a wake-up call. This detailed and haunting account of Canada's worst monsters analyzes their crimes, childhoods, and inevitable downfalls. It is an indispensable compendium for any true crime lover, criminologist, or law-enforcement officer.
"Mellor has just begun to scratch at the surface of a story that has far too long remained in the shadows." The Chronicle-Journal
Interview in Defining Canada