Lee Lamothe is the author of several non-fiction books, including the national bestsellers The Sixth Family and Bloodlines, as well as the genre-busting novel The Last Thief: A Tale of the Russian Underworld, and the highly acclaimed Ray Tate & Djuna Brown detective novels as well as the Charlie Tate & Elodie Gray crime books.
---
New Titles
Presto Variations: A Ray Tate and Djuna Brown Mystery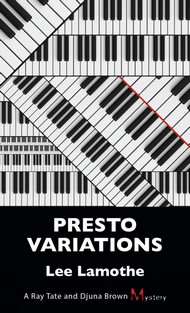 Dundurn Press, 2013
Detectives Ray Tate and Djuna Brown are back from a vacation in Paris—fraudulently funded by a stolen State Police credit card. While waiting to find out if they're going to be fired or jailed, the couple is assigned to the Green Squad, a dead-end job shuffling paper and counting contraband money. But while interrogating a money smuggler, Tate and Brown uncover a massive currency stash they hope will keep them out of jail. Their target is drug trafficker Laszlo "Marko" Markowitz, who has millions in cocaine profits to be laundered and shipped into Canada.
As Tate and Brown try to penetrate the Markowitz organization, they uncover an underworld choking on its own profits and find a homicidal madman who has created the perfect blend of criminality and anarchy.
"This is a dark and moody mystery thriller. Organized crime is endlessly fascinating. . . . You never know who will come out this thing alive." Goodreads Community Review
"Salty, smart and sexy Ray and Djuna are back . . . and mayhem follows as the pair face, again, the hard reality of law enforcement in their city. Great grit." The Globe and Mail
"Lamothe knows cops and crooks. When the former Toronto crime reporter isn't tracking Canada's underworld (The Sixth Family), he's penning some of the grittiest (and atypical) crime tales around. . . . Jangly and uneven, there's a touch of Kerouac and Burroughs here, like a beat-generation revival piece. And the extended, grisly, empty-the-clip ending alone is worth the price of admission. If you're brave, go get it. If you're not, go get it anyway and take a walk on the wild side." Winnipeg Free Press
---
The Glass Pieces: An Elodie Gray and Charlie Tate Mystery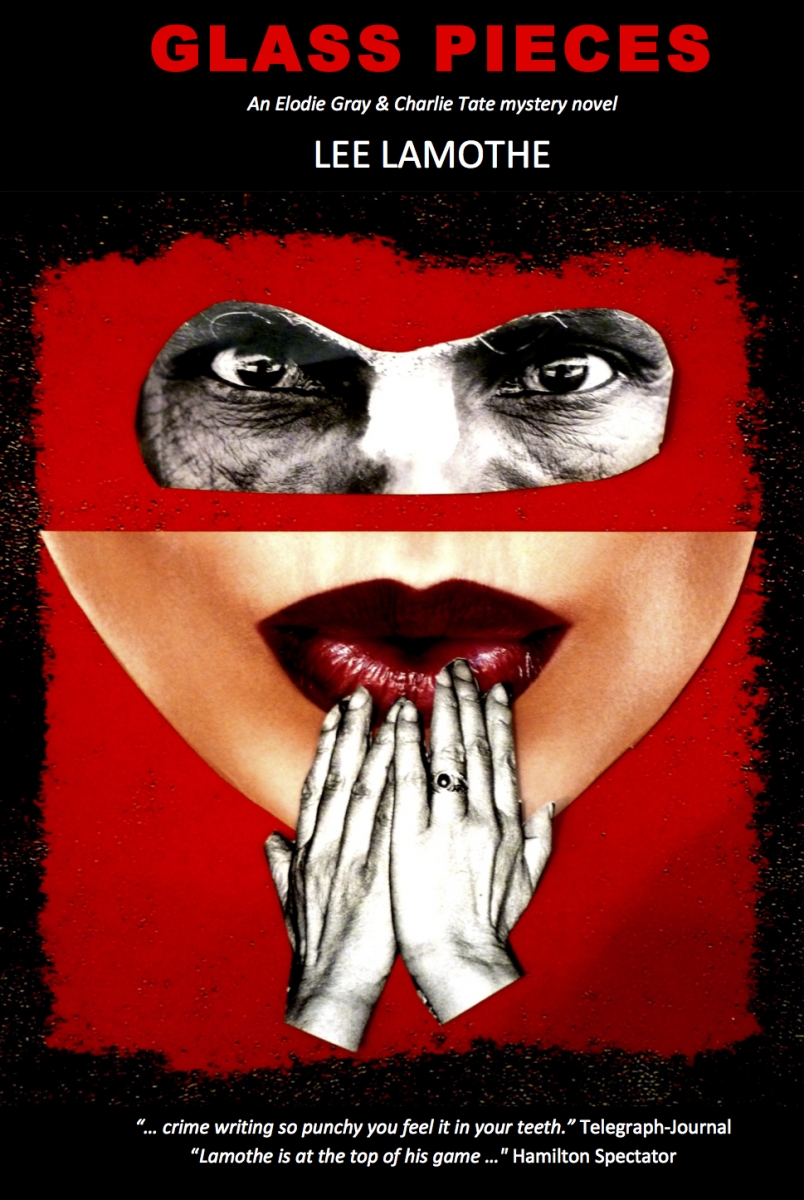 ebook, 2014
In The Glass Pieces, the second novel in the Elodie Gray & Charlie Tate series, a woman returns home to find her husband, a successful and prominent businessman and philanthropist, dead by a self-inflicted gunshot. A note is left; it simply says, "I'm sorry." Because of the prominence of the family involved, police conduct a thorough investigation and determine it was a genuine suicide. But they never determine why Martin Baker—a man who had it all—killed himself.
Elodie and Charlie are asked by the widow to find out what caused a man who had everything—vast wealth and power and a loving family and loyal friends—to inexplicably commit suicide without explanation.
Using their unique skills—Elodie working through her high society contacts, and Charlie reaching out to his cop and criminal connections—they find themselves the target of a campaign to keep them from the truth.
As they get closer to resolving the Baker case, their personal relationship, already rocky and soaked in booze, comes perilously close to being destroyed.
And, they discover, sometimes secrets, like dead bodies, are better left buried.
The Elodie Gray & Charlie Tate series—nominated for the Arthur Ellis Award—has been uniformly praised as "kick ass," "tight and muscular," and "genre-busting."
Reviews can be found at www.leelamothe.com
---
Other Titles
Picasso Blues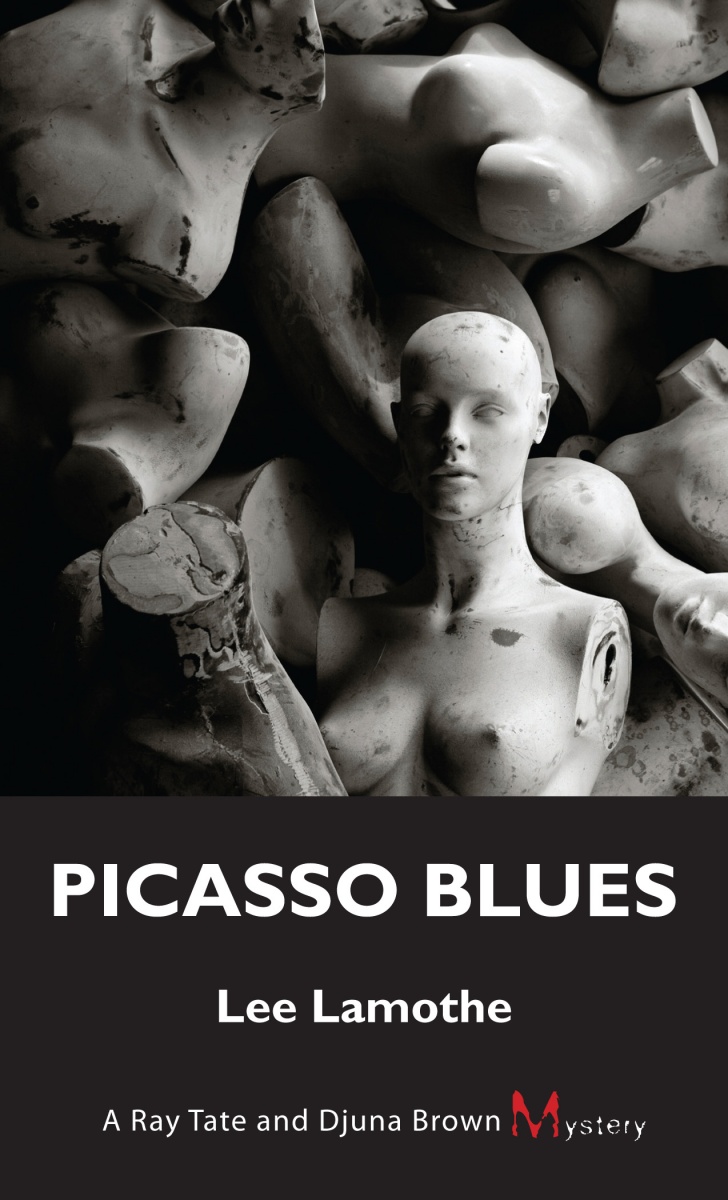 Dundurn Press, 2011
In this sequel to Free Form Jazz, city detective Ray Tate and State Police sergeant Djuna Brown are reunited in the hunt for a brutal killer. As the city is gripped in a paroxysm of murderous racial violence, riots, arson and paranoia, Tate and Brown work their way through the white power underworld and the machinations of a police intelligence squad gone rogue. And along the way they find they're not immune to the brutality destroying the city.
"Toronto bad-boy Lee Lamothe is back with a second gonzo-noir cop drama that riffs heavily off last year's illusion-shattering G20 riots … Picasso is a must-read for every cop north of the Rio Grande -- and for anyone wanting the real down-low and up-high on our troubled guardians … At heart, tough-guy Lamothe is a bleary-eyed romantic, and Picasso is really all about Ray and Djuna, a pairing besieged by dire circumstance and incompatible callings …" Winnipeg Free Press
"Picasso Blues is a potent piece of writing … On one level, it's an action-packed, hard-boiled police procedural. On the other, it's an under-your-skin story that keeps resonating in your thoughts long after you've put it down … In a scene of rioting, murder and arson, the pace is relentless and merciless … The ending in this must-read mystery is an example of why author Lee Lamothe is at the top of his game …" The Hamilton Spectator
"Be warned: The opening pages of this book will give you nightmares … Lamothe can go from a detached eyeball to music described as 'Jarretty' in one swift move, and it's what gives his novels their rhythm … Lamothe isn't for everyone. His stories are violent and raw, and his characters ignoble. He doesn't always follow the rules, either. But Picasso Blues has its own beat and, if you can follow it, it's good …" The Globe and Mail
"Picasso Blues is much more than a police mystery. Tate and Brown dream of a life in Paris, where Tate can paint full-time and Brown will be his muse … Those dreams become an ever more important contrast to the tragedies of the murdered women and the people killed in the Chinatown fire, all of them victims of racism and hatred. There is, at least in dreams and perhaps in reality, a better way to live …" The Star Phoenix
Interview in Open Book Toronto
---
Free Form Jazz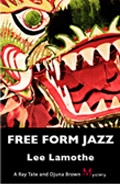 Dundurn Press, 2010
Disgraced city cop Ray Tate and outcast state trooper Djuna Brown track down a wealthy sexual sadist and a depressed career criminal flooding a Midwestern U.S. city with killer ecstasy pills. Mismatched and mutually suspicious of each other, Tate and Brown hunt the mythic Captain Cook and his henchman, the homicidal Phil Harvey. But as Captain Cook sinks deeper into a spiral of sexual depravity, Phil Harvey begins to question his role as a lifelong gangster.
Tate and Brown discover, as they sift through the rubble left by their targets, that no one is what they appear to be — not even themselves. Travelling through the Chinese underworld, clandestine drug laboratories, and biker-ridden badlands, the troubled duo encounter murder, political corruption, police paranoia, and psychosis, but can they find redemption?
"Free Form Jazz was written by Lee Lamothe's evil twin … After two anti-genre gems, 2003's ultra-violent romance The Last Thief and last year's The Finger's Twist, ironically nominated for best Canadian crime novel, the contrary Lamothe emerges, delivering a superbly crafted morality play … Lamothe now has a genre-stretching hat-trick. Pray for more…" Winnipeg Free Press
"Lamothe takes the time to turn Tate and Brown into characters with depth, not just habits, and then lets them follow the evidence and build the case. Lamothe's novel, The Finger's Twist, which eerily predicted (G20 anarchist) events last weekend in Toronto, was a finalist for the Arthur Ellis Award. This one is even better ..." The Globe and Mail
"Not a year from his last release, Toronto journalist-turned-mystery-writer Lee Lamothe is back with his brand of crime writing so punchy you feel it in your teeth … Free Form Jazz comes perfectly timed … not just for fans of The Finger's Twist, which was short-listed for the Arthur Ellis Award for crime fiction, but also given the security fiasco of the recent G20 Summit in Toronto … Lamothe also explores the moral dilemmas of a lifelong gangster …" Telegraph-Journal
"Free Form Jazz has a 'can't-put-it-down' pace … Lamothe often lets his readers fill in the blanks, knowing that their imagination will probably paint a more frightening picture … (A)n air of reality that will surprise many as he investigates and uncovers motives on both sides of this drama …" EMC News
"Lamothe keeps the dialogue colourful and to the point, keeps the action on a fast pace to a very satisfactory conclusion, and leaves just one unanswered question, will this be a series? … If your taste runs to fast-paced crime fiction, then you'll devour Free Form Jazz. And it will whet your appetite for more …" Mystery Maven Canada
---
The Finger's Twist

Turnstone Press, 2009
Charlie Tate and Elodie Gray make a striking couple. Charlie is shaven-headed weightlifter who has worked as a seaman, carnival huckster and hustler and now earns his keep as an unlicensed private investigator specializing in extricating clients' money from thieves. Elodie Gray comes from money-lot's of money. An accident when she was a teen confined her to a wheelchair, so she does the inside work-using her computer knowledge to find people who want to remain hidden.
In The Finger's Twist, Charles and Elodie are hired to investigate a bombing attempt at the Ontario legislature, purportedly committed by an anarchist group called The Black Bloc. While the city drops into paranoia fueled by the police and the mayor, Charlie and Elodie try to keep the black sheep daughter of a prominent family from a certain prison sentence. The Finger's Twist is more than a whodunit—it's the story of a romantic relationship that's constantly in jeopardy from within and without. The title refers to the "signature" every bomb maker has when wiring the detonator of a bomb.
"Lamothe is a flash-nova in a mystery/suspense firmament … He's penned not only the best Canadian mystery/suspense release of the year, but a yarn light-years beyond anything the American stars have produced … It is simply the breakout novel … No higher praise is possible … Once finished, you may be tempted to read it again. Indulge … A gold-plated winner ..." Winnipeg Free Press
"Lamothe has constructed a wonderful noir thriller … Cool precise language … The Finger's Twist should be a finalist for the Arthur Ellis Award …" The Globe and Mail
"An unexpected delight, a dark journey … Look for this one and when you find it, buy two: one as a gift and the other to keep for yourself …" Calgary Herald
"Toronto's seedy underbelly is veteran crime reporter Lee Lamothe's turf, and he uses his intimate knowledge of corruption and organized crime in this new novel … A good read ..." The Sudbury Star
"… (A) quirky little thriller, with plenty of action, a clipped pace and a proper maelstrom of "whodunnit" cloak-and-dagger storytelling. The dialogue is excellent … If you're a fan of underworld skullduggery in a modern, urban setting, this'll be right up your alley…"
Uptown Magazine: "Intriguing shades of grey … It's hard to tell the good guys and the bad guys apart in The Finger's Twist … In this world, politicians spin, police crack heads and fixers of all kinds get things done … A terrifically smart novel …" The Uniter
"Lee Lamothe is a writer who knows evil … In his world good and bad don't exist. Justice is a fairytale …. This is where Lamothe's perspective is most interesting. Evil is "invisible and pervasive ... (it) puts a gun in your paranoid hand and sends you creeping, naked ... Evil is indifferent …" Telegraph-Journal
The Finger's Twist was a finalist for the 2010 Crime Writers of Canada best novel award.
---
The Last Thief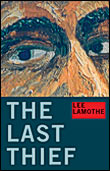 ECW Press, 2003
Nine-fingered Fyodor "Bone" Sliva is the last Thief, legendary for his murderous adherence to the Zakone, a brutal code of honour that once ruled the Moscow underworld. But as the Soviet Union disintegrates and a new cadre of gangsters, businessmen, and politicians takes over, Bone finds himself a hunted man.…
The Last Thief is the story of an underworld caught between profit and tradition, an epic testament to the struggle for honour in the midst of violence.
"Disturbing in no small measure precisely because it's so compelling … The Last Thief is an amoral book, not just because it takes as its subject an amoral milieu and cast of characters. The same charge of amorality could be - and indeed has been - levied against Bret Easton Ellis for American Psycho or Michel Houellebec for The Elementary Particles … For those willing to be disturbed, the book is a chilling glimpse into a world most of us - thankfully - will never encounter at first hand …" Books in Canada
---
The Sixth Family: The Collapse of the New York Mafia
and the Rise of Vito Rizzuto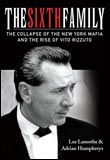 Coauthored with Adrian Humphreys
Wiley, 2006
"It is essential reading, not only in the context of the looming (Vito) Rizzuto murder trial, but for anyone concerned about the intrusion of traditional organized crime into every facet of our society."
The Sixth Family reveals the hidden history of the rise of the Rizzuto clan, the alliances it forged around the world and the bloody events that led to charges against Vito Rizzuto in the United States and Italy for racketeering and corruption. As police in the United States, Italy and Canada notions about the nature of authority within the Mafia were called into question. Who was this so-called "John Gotti of Canada"? How did he become one of the biggest names in global crime?
Picking up where the best-selling hardcover edition of The Sixth Family left of, Lee Lamothe and Adrian Humphreys expand the story to tell of Rizzuto's aggressive but losing battle to thwart American justice and present in-depth coverage of Rizzuto's New York trial. In the wake of Rizzuto's extradition, police in Quebec carried out Project Colisee, a sensational sweep of the underworld that netted 80 suspected members of the Sixth Family's criminal and financial network in an effort to declaw the Mafia.
Is Rizzuto's near-perfect Mafia coming to an end? Or is the underworld legend simply too powerful to fall?
"A Machiavellian mystery tour of the mob underworld. Essential reading... for anyone concerned about the intrusion of traditional organized crime into every facet of our society."
 The Globe and Mail
"With a reporter's eye for details and a novelist's gift for storytelling, the two authors lay bare the Rizzuto family's inner workings and international connections."
 The Record (Kitchener)
---
Angels, Mobsters & Narco-Terrorists:
The Rising Menace of Global Criminal Empires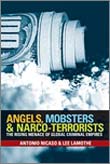 Coauthored with Antonio Nicaso
Wiley, 2005
In this ground-breaking book, Antonio Nicaso, an internationally renowned expert on organized crime groups, and Lee Lamothe, a veteran investigative journalist specializing in criminal conspiracies, present solid evidence of how established organized crime groups — such as the Mafia and the Triads — have changed their tactics and allegiances to protect their interests against the rise of violent and power-hungry gangs from Albania, Mexico, and Russia.
Angels, Mobsters, & Narco-Terrorists reveals how, due to their shared border, the USA and Canada have become prime targets for criminal groups that engage in money laundering and prostitution rings, and trafficking in human cargo, narcotics, and arms. On the international scene, state-sanctioned crime is thriving on heroin profits and cyber crime is emerging as a very lucrative and baffling activity to investigate and shut down.
Dive inside the world of organized crime and discover how far it has penetrated our lives.
"Lamothe and Nicaso have once again set the standard … This illuminating sequel helps cement their reputation as Canada's top experts on organized crime in this country and beyond." Stephen Schneider, St. Mary's University
---
Bloodlines: The Rise and Fall of the Mafia's Royal Family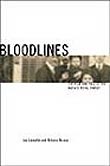 Coauthored with Antonio Nicaso
HarperCollins, 2001
Bloodlines: The Rise and Fall of the Mafia's Royal Family (in paperback: Bloodlines: Project Omerta and the Fall of the Mafia's Royal Family; in French: Liens du sang) was written with Antonio Nicaso. Bloodlines detailed thirty years of investigations conducted against the Sicilian Mafia in Canada, the U.S., the UK and Italy.
This is a fascinating account of a family who created a Mafia of their own, a Mafia dedicated to sophisticated money-laundering schemes that grew their fortune to $500 million. With comprehensive access to police wire-taps, surveillance reports and photographs, combined with interviews with underworld sources and crime experts, the authors expose how countries and politicians underestimated the family's power, and show how Canada has become the money-laundering capital of the world and a haven for organized crime. In a gripping finale, Bloodlines takes us to the well-off suburb of Woodbridge, Ontario, where Canadian police were able to do what no other law enforcement agency could — arrest Alfonso Caruana on cocaine conspiracy charges.
Antonio Nicaso and Lee Lamothe have worked with more than 120,000 documents, audio and video tapes, and conducted several dozen interviews with both law enforcement and underworld players. An intelligent and unputdownable true crime read, Bloodlines takes the genre to a new level of intrigue and depth.
"In this flawlessly researched, superbly written account, Lee Lamothe and Antonio Nicaso have rendered a public service that will not easily be duplicated … In a class of its own, one of the absolute best." The Globe and Mail
---
Global Mafia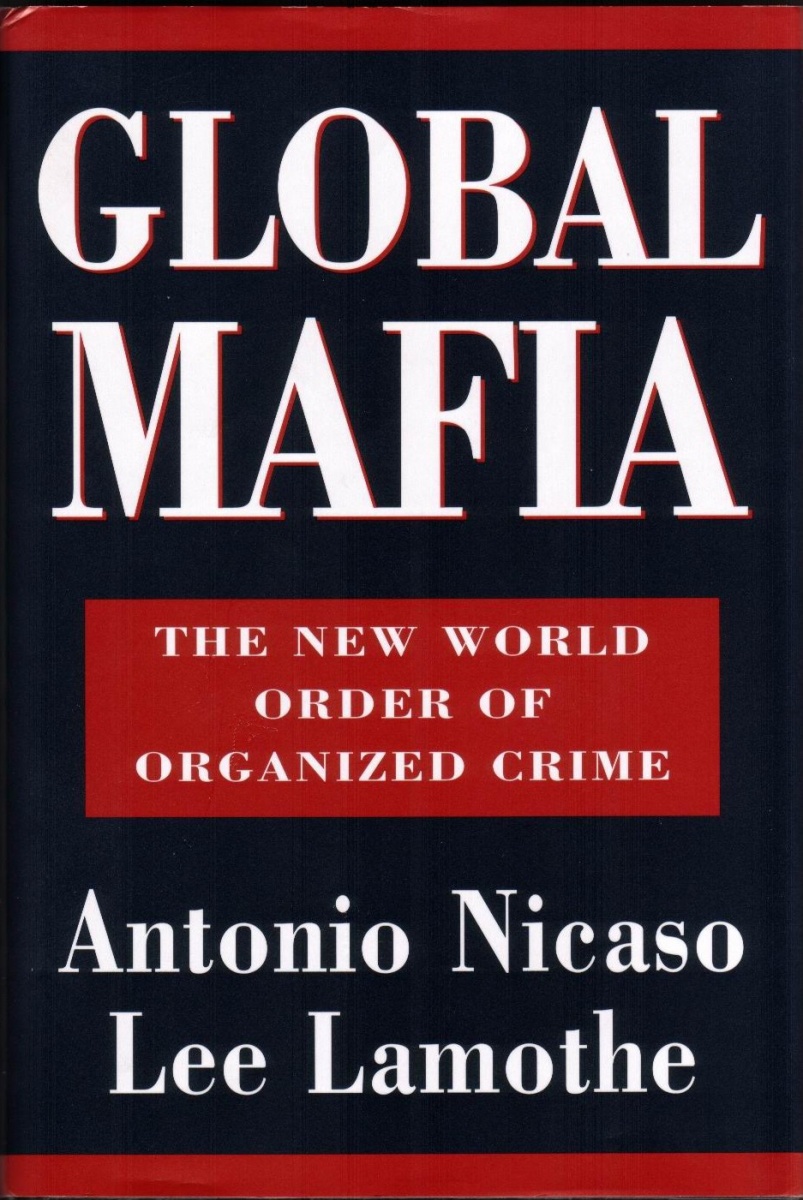 Coauthored with Antonio Nicaso
Macmillan, 1995
Global Mafia was written with Italian-Canadian journalist Antonio Nicaso. Global Mafia: The New World Order of Organized Crime ia — uncovered the links between Canadian crime groups and criminal organizations from sevdetailed the links between transnational crime groups as they work together to control criminal markets throughout the world. Global Mafia — used as a teaching tool by police agencies, academics, and the mederal countries, including Eastern Europe, Sicily, and Colombia. Global Mafia was reprinted in French, Indonesian, Dutch, and Hungarian.
"Nicaso and Lamothe, long-time crime writer-researchers, reveal the insidious nature of global lawbreaking, in this hard-hitting expose …" Ottawa Citizen
---
Criminal Acts II
Macmillan, 1995
Criminal Acts II covered a year (1995) in Canadian crime, ranging from the Paul Bernardo trial to biker wars to sting operations against organized crime. Criminals Acts II also analyzed crime trends across the country and looked at the young offenders' act, immigration and crime, and homicide.