Fiction by Lawrence Osgood has appeared in the London Magazine, Canadian Fiction Magazine, Pleiades, and the St. Martin's Press Year's Best Fantasy and Horror. His plays have been published and produced Off Broadway and on CBC radio. He has explored Arctic rivers and lived and worked with the Canadian Inuit, directing a native language revitalization project and producing Inuit children's TV programs.
---
Recent Titles
Midnight Sun (Goose Lane Editions, 2005)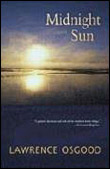 Synopsis
Midnight Sun is an epic novel of the Canadian Arctic that unfolds across the tundra wilderness, in an Inuit village, on the moon, and under the sea. Unexpected, mysterious, and frightening events, exposing cross-cultural conflicts and misunderstndings, lead to an astonishing climax.
Read an excerpt from Midnight Sun.
Reviews
Lawrence Osgood comes to his novel with formidable credentials. [He] juggles narrative omniscience with ease, giving us true essence – the unspoken – from every angle.… The ricochet from elemental joy to terror is riveting.… Midnight Sun presents impeccable intentions, wonderful effects.

— Jim Bartley, The Globe & Mail